Helping consumers buy with total confidence!
The British Promotional Merchandise Association (BPMA) is the professional body serving the promotional products industry in the UK and Ireland.
For more than 50 years, the BPMA has been committed to delivering compliance through a strict code of conduct that governs quality, accurate advertising, fair trade terms and managing customer complaints.
This means that customers buying BMPA-approved products from a verified BPMA member can buy with complete confidence.
We're incredibly proud to be one of only 15 approved BPMA chartered distributors in the UK. We care about providing our customers with quality-assured, ethically sourced and environmentally conscious products, so we're very excited to present some of the award-winning products of 2022/23…
Rab Downpour Eco Waterproof Promotional Jacket
Built for challenging weather conditions, the first-ever mono-polymer waterproof from Rab Downpour Waterproof will keep you warm and comfortable on every outdoor adventure.
Made from recycled 2.5-layer Pertex® revolve fabric with a fluorocarbon-free DWR treatment and a polyester outer membrane, the jacket can also be recycled at the end of its life. It's available in various colours to match your branding and is an excellent, sustainably made piece to co-brand.
It keeps you warm and dry and features a pair of zipped handwarmer pockets large enough to hold a map! To help tailor the fit to the conditions, it has adjustable cuffs and a two-way adjustable hood with a polymer peak to stop the drips from getting too close!
Lightweight and packable, it also comes with a pair of deep-venting pit zips to keep you fresh and in control when the pace, the trail or the temperature climbs.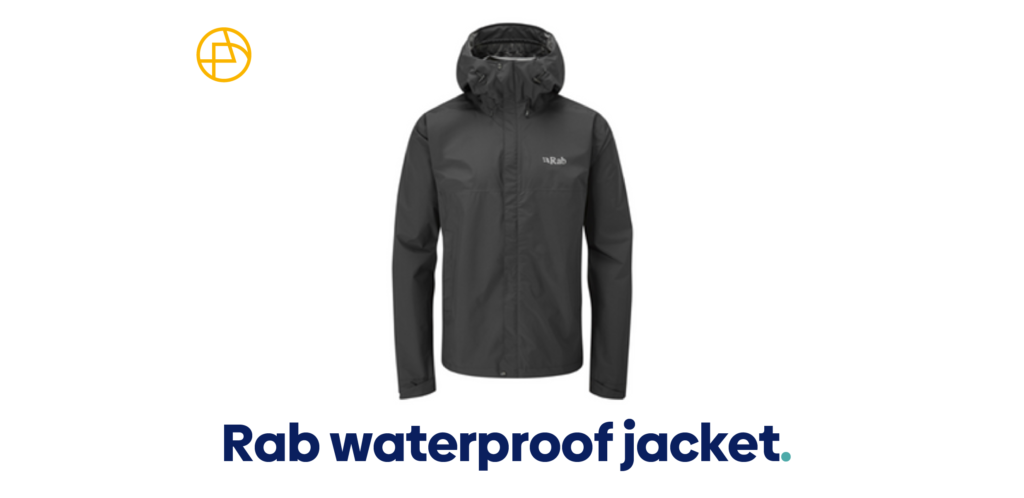 Ninga Recycled PET (rPET) Recron® GreenGold Tote Bag
Are you looking for the perfect welcome gift for a new employee representing you and your business?
The Ninga Recycled PET Recron® GreenGold Tote Bag is a stylish, robust, eco-friendly shopper made from 100% recycled plastic water bottles!
The bottles are transformed into yarn, woven into beautiful tote bags, and completely free of harmful chemicals.
They're also made from renewable energy, and 90% of all the water used in production is recycled too!
The manufacturing process is tracked using GreenGold tracers to give you complete peace of mind. This means we can verify each bag's authenticity and confirm that Reliance Industries have made them at one of its manufacturing plants. Perfect for ethically-minded businesses.
Available in white, black and Navy. GRS certified.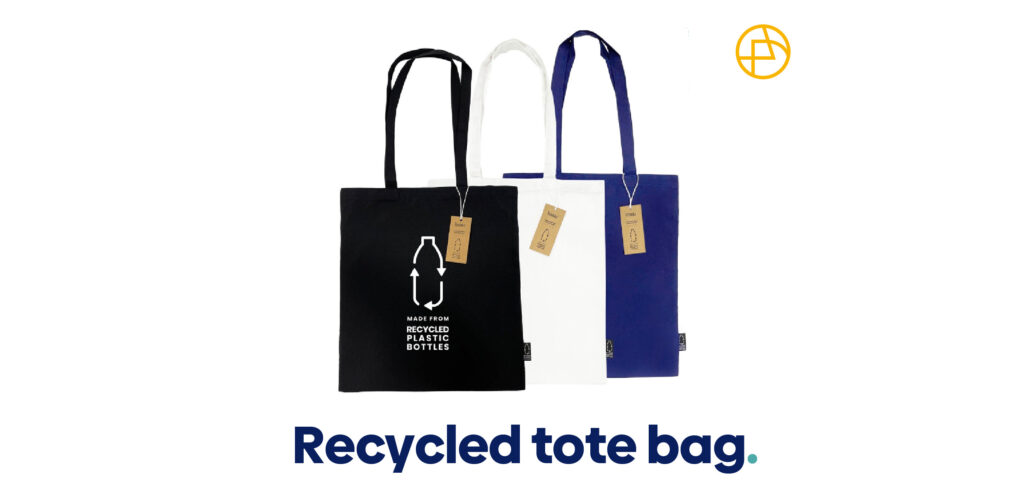 COMO recycled PET A4/A5 Folder and Binder Range
Fully branded to your business, these folders would be a perfect addition to your business stationery or a handy corporate gift for important clients.
Available in A4 and A5 formats, these stylish folders and binders are made from recycled materials, including recycled plastic bottles.
The cover and inner pockets are made from COMO rPET, whilst the lining is made from rPET polyester. And the paper is made from recycled materials too.
The range is available in all black, as well as in other multi-colour formats which are made here in the UK. The interiors are black; however, you can have any combo colours for the outer layer to personalise it for you and your business!
A brand new range, raising the bar for sustainable folders, branded beautifully and provided in a wide choice of colours.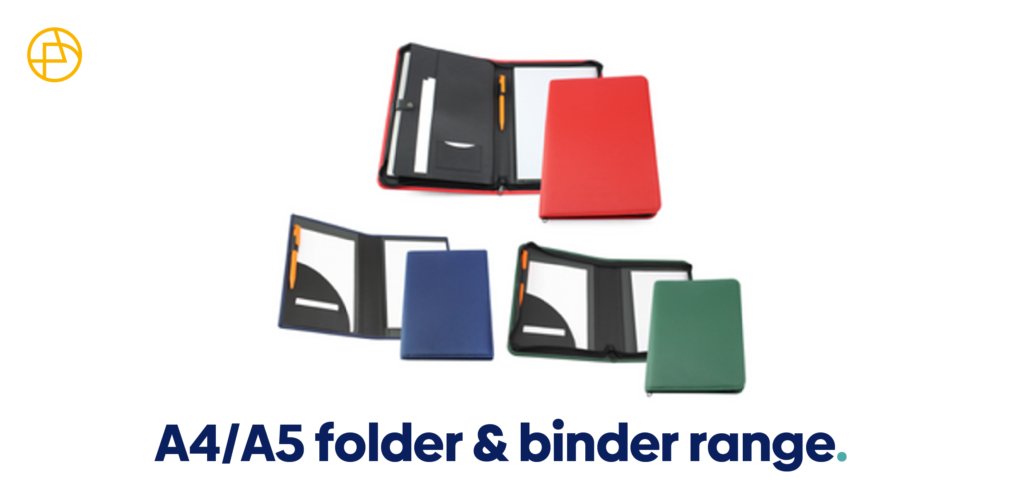 Xoopar MeetAIR Home Conference Speaker
Our Xoopar home conference speaker is a product designed to maximise your daily audio experience! It's perfect for video calls at work, whether at home or in the office, making your audio as professional as you. It's also great for listening to music too!
Made from a unique mix of RPET and cork, our speakers are made from sustainable material, making them the perfect eco-friendly gift.
It has a dual plug allowing it to connect to multiple devices, such as iMacs and PCs. It can also be connected to iPads, phones and other devices through Bluetooth, making portable access super easy.
Get in touch at Start a project to find out more.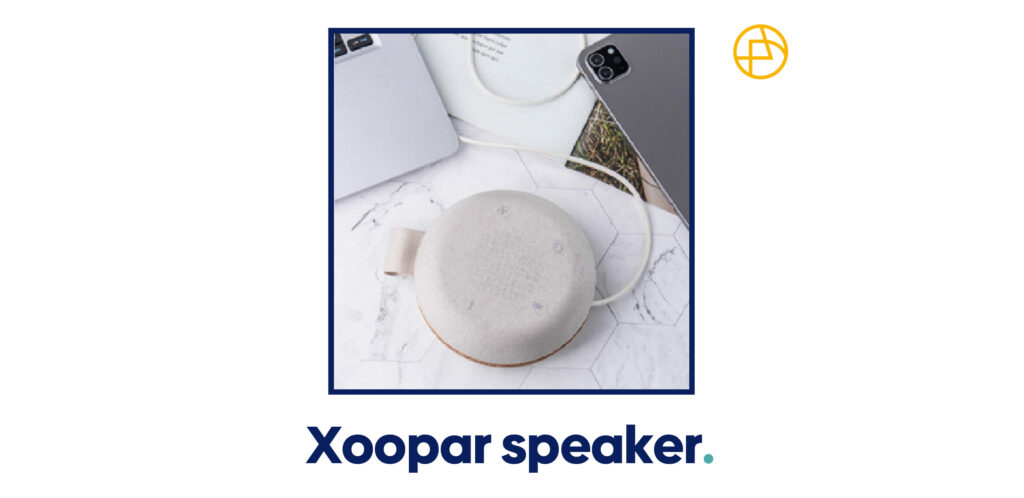 MR BIO FAST Charge Cable
Stay charged at all times with our Mr BIO fast-charge cable!
Our fast-charge cable is made of recycled plastic, making it a great sustainable tech option. It is eco-friendly and super practical as it comes with a 1m long wire, allowing you to charge your devices even if that plug isn't in the best spot!
The cable also supports ports such as apple lightning, allowing it to charge devices up to 4x faster than a standard cable. It supports data transfer, meaning it's perfect to use in the car or on your way to work with the newest CarPlay software.
It's capable of charging up to 60 watts, making it super efficient, which allows it to charge devices such as laptops, tablets and phones. It has branding options on the charger's body, putting your branding front and centre.
The cable also comes in bespoke card packaging for a premium quality finish.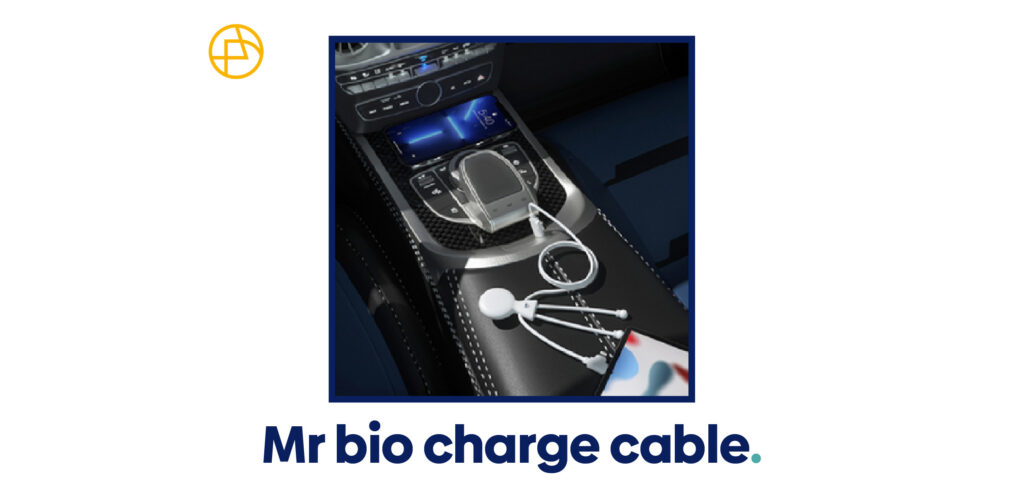 Cake Jars
Cake is a firm favourite for everyone.
These tasty cake jars take the eating experience to the next level while also being a fantastic universal gifting option.
The jars are made of recyclable glass before being filled with incredible layers of delicate sponge, frosting and flavoured sauce!
Our different flavours include Victoria Sponge, Lemon Drizzle, Strawberry Sundae and Vegan Caramel Muffin! Every jar also comes with its own spoon to enjoy every delicious bite.
You might think shelf life can be an issue for long-running events, but our cake jars are the perfect solution! Offering a 14-day shelf life from delivery!
Each jar has a 50mm label space for branding, where you can print in full colour. Our jars are also supplied in various pack sizes, starting with individual tubes that can be posted to bulk packs containing up to 48 jars.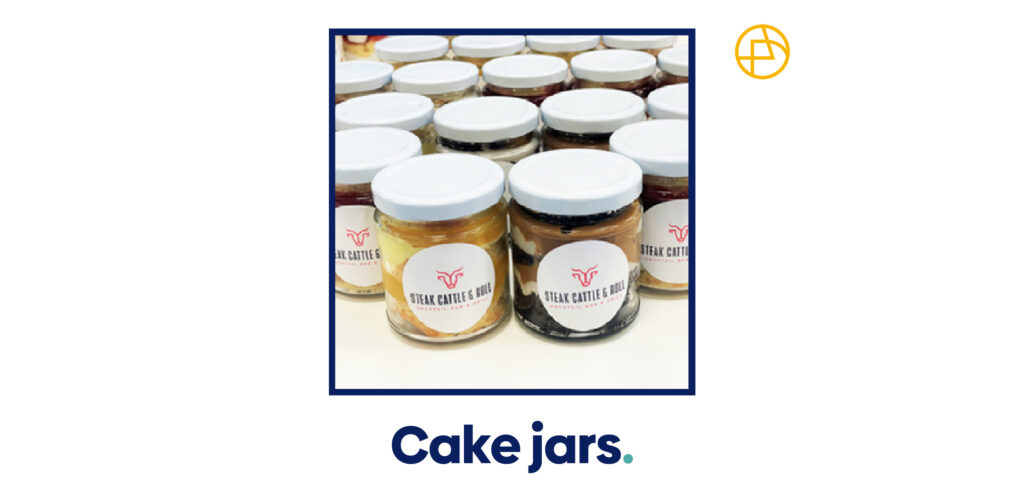 Bucket Hat
Our bespoke printed bucket hats are the perfect warm-weather accessory for this summer. Sleek and stylish, they are perfect for anything from camping holidays and outdoor sports to music festivals and concerts!
Our hats come with single-side or even double-side full-colour prints, meaning they're reversible too, so however they're worn, you can get your brand and designs seen by all.
The perfect item to kick off your summer product packs!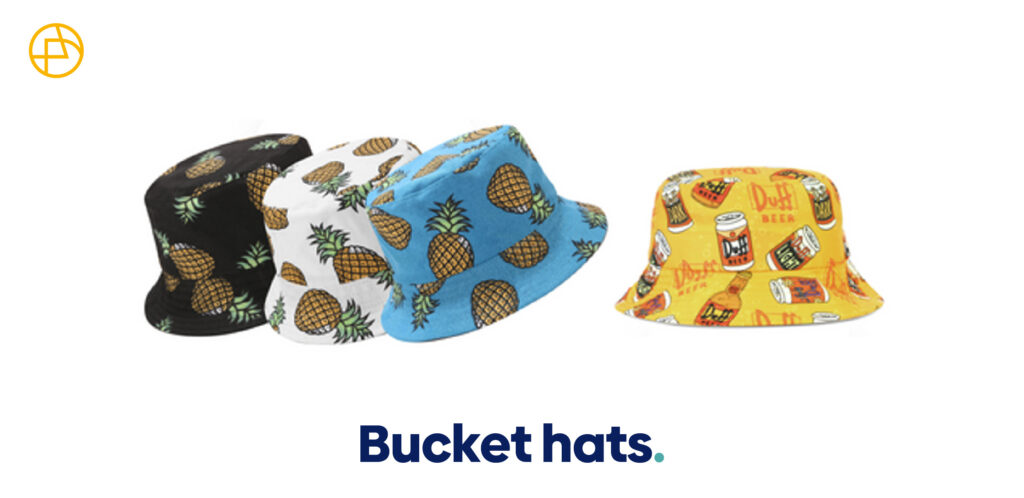 To find out more about our award-winning products, get in touch and Get in contact!
Blog
Read all about it! Check out what Team A.D. has to say.
Learn more
Our solutions
Discover the ways that we can make your brand stand out and connect with people.
Learn more
hide