Make every tournament an event to remember with A.D.!
This year we have an actioned-packed sporting schedule you won't want to miss out on. Kicking off with the Rugby World Cup in France! In preparation, we've selected some tournament essentials ready to be branded as gifts or to help build that office atmosphere on matchday! 
Be try-ready at all times!
Our rugby ball keyring is perfect for rugby-related giveaways or gifts to friends and colleagues who have a true passion for the game! It can be manufactured in a smooth PVC finish or pimpled grain rubber for a softer effect. It's 6cm long, making it a sleek, lightweight addition to your keys.
This piece can be coloured-matched and printed to all four panels as standard. Make sure you get yours now, ready in time for the World Cup in 2023!
Take a look at some of the Rugby products we've already supplied for one of our clients Jaguar Landrover!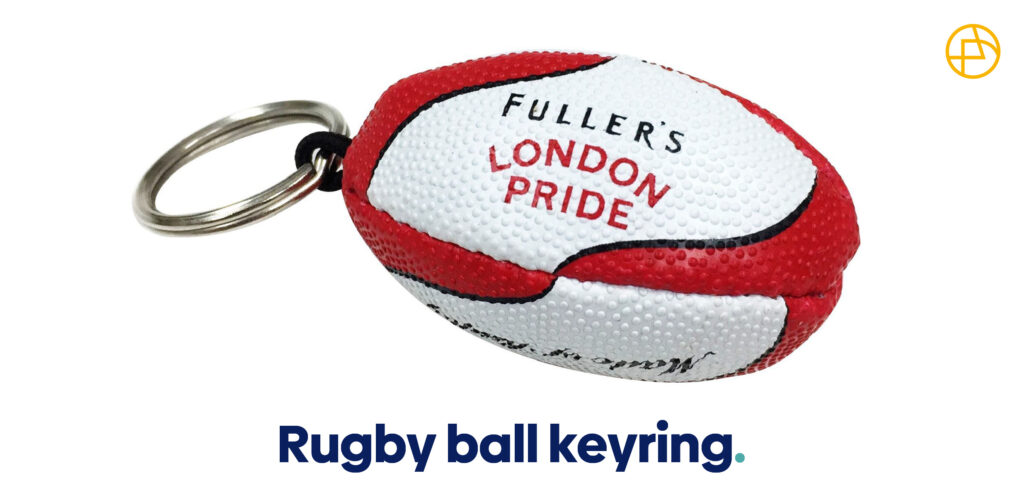 Stand out from the crowd and make yourself known!
Our clap banner is a hand-held banner and noisemaker all in one. A brilliant gift to dish out at any event.
They're eco-friendly, being made from recycled and biodegradable material, making them a great sustainable choice.
Clap banners make an excellent souvenir, so make sure you order yours in time for the world cup!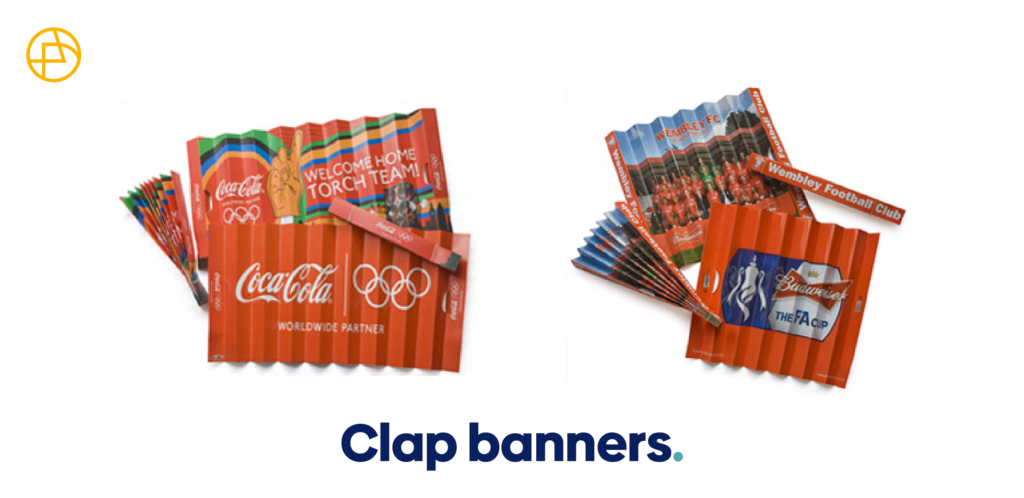 Don't let the Red & Whites stress you out…
With this Rugby Stress Ball, you can score a try without even breaking a sweat!
These balls are great advertising items and brilliant gifts for customers and colleagues.
Try customising these items stress-free with your branding, so you're one step closer to winning over the fans!
Have you tried our scrum-ptious chocolate rugby ball?
Our solid milk chocolate rugby balls are the perfect sweet treat to indulge in when watching the games this March.
These treats are perfect as a branded gift! They come in a clear cellophane bag with a full-colour, digitally printed header card. As well as a sizable chunk of chocolate to get your teeth into! 
Make sure you get yours ordered in time for the first whistle…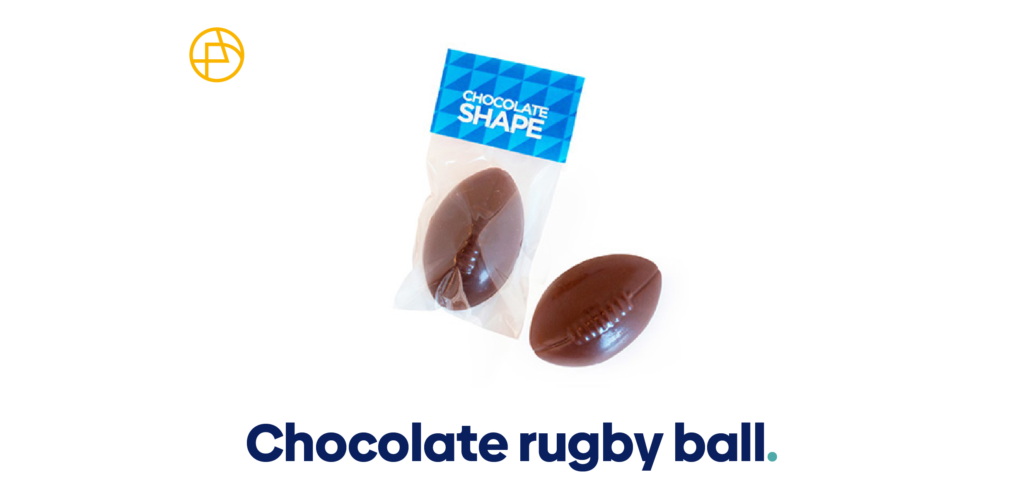 Blow your whistle, referee!
Gift customers with our recycled whistles to make them feel like they're in the game!
Our 40mm whistle has a round print area to get your branding in a place for all to see. It's also supplied with a ball-chain fitting.
Our whistles are produced in the UK and are made from recycled plastic! They're digitally printed in full colour with a huge range of colour options to choose from.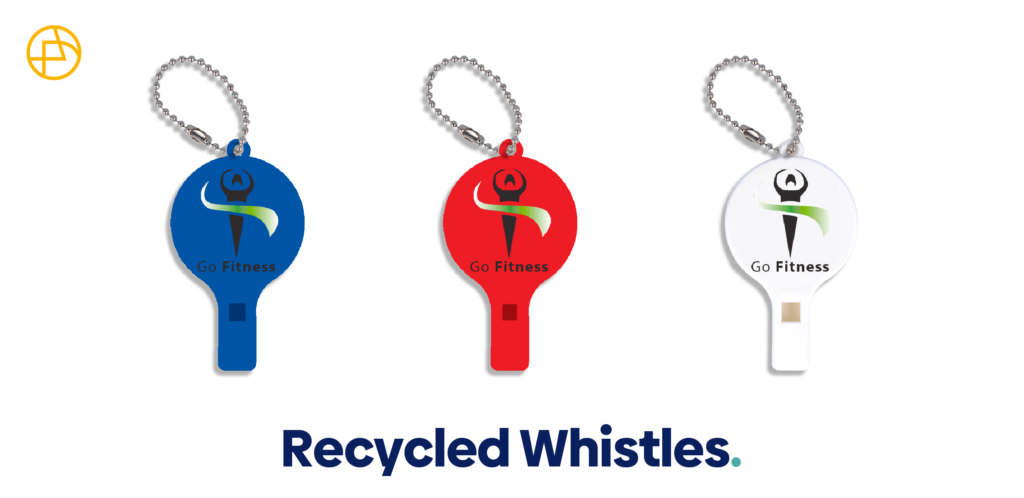 Make some noise for the Three Lions!
Are you looking for something to help increase the atmosphere at this year's Rugby World Cup in France?
Then look no further than our rugby-themed Bang Bang Sticks! Perfect to make you stick out from the crowd, our rugby sticks are a fantastic gift for all parties!
The sticks have a large printing area, perfect for you and your brand. Each stick can be Pantone matched with an extra colour if you so wish.
Every set contains one rugby-shaped bang bang stick and a plastic pipe to inflate, so what are you waiting for? Kick off your 2023 Rugby World Cup with us today! Contact us to find out if you qualify for free set-up and delivery.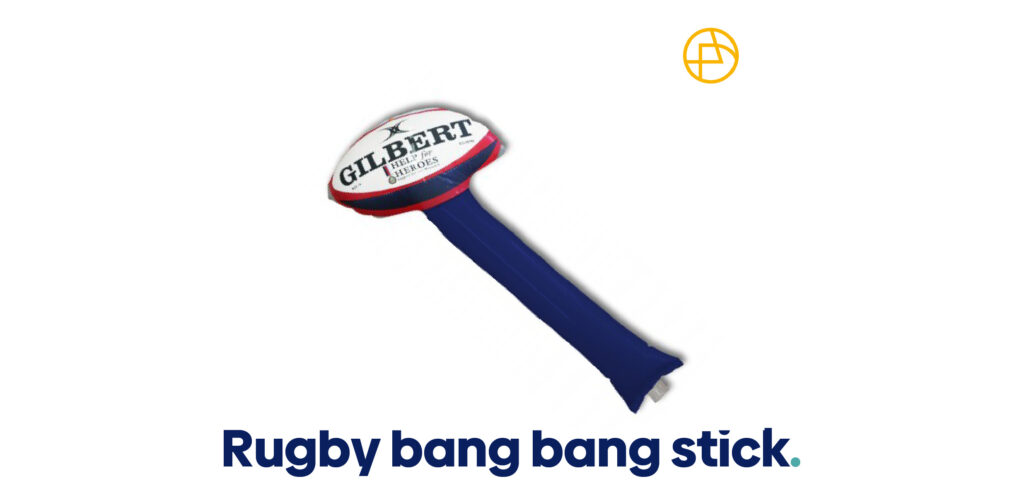 Get Golf Ready!
Ready to tee off with some of your favourite corporate clients? We have a vast range of golf gifts your clients will love! So if you're looking for sustainable golf products, get in touch to discover our full range. Here are some of our favourite items… 
Multi-Tool Brush Keyring
Golf's swiss army knife equivalent!
The most practical accessory you can carry on the golf course is this 3-in-1 multi-tool keyring. It has retractable brushes and a spike to keep clubs and balls clean in challenging weather conditions.
The nylon brush is for light cleaning, while the steel brush is for heavy-duty cleaning, with the spike being perfect for getting in those tough grooves.
It has a ball chain fitment, so you can easily attach it to golf bags. It comes in black and can have your logo printed on the handle.
So what are you waiting for? Gift those who enjoy a round of golf today!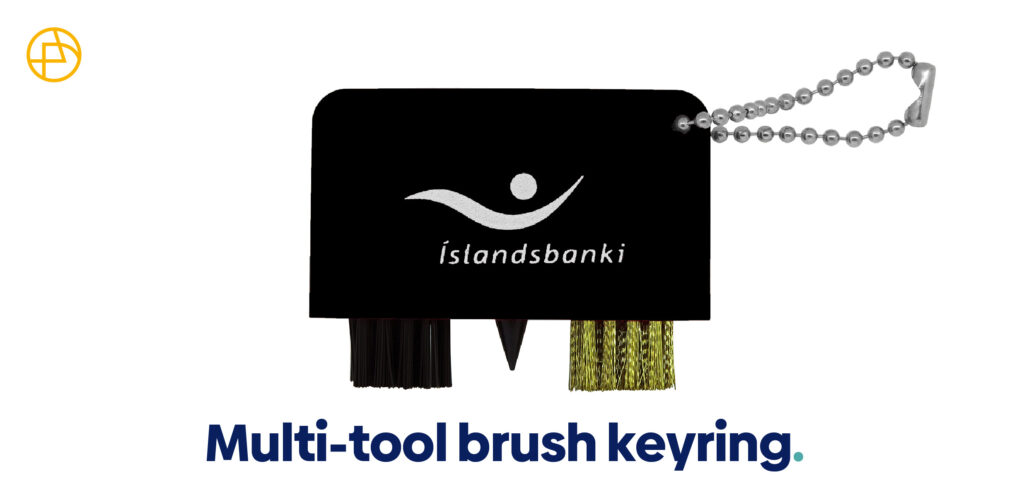 IBOX 3.0 X – Golf pack
Ditch the divots!
Our premium-quality divot repair tool is great for keeping the green pristine! It comes with polished nickel plating to make it a more efficient tool. Complete with a domed magnetic ball marker.
The BOX 3.0 X – Golf pack also has a microfibre towel that is perfect for keeping clubs in top condition and is a stylish addition to your golfing essentials. Complete with a metal hook fitment, attaching to golf bags with no issue.
It also comes with custom golf balls and a coin marker to ensure they never lose their spot on the green.
This stunning gold gift can also be fully customised at no extra cost.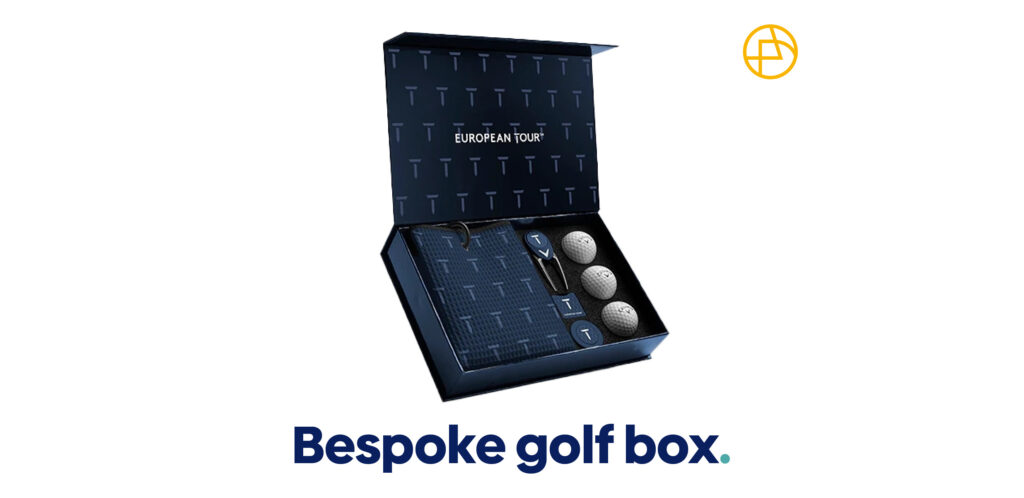 Callaway Umbrella
Stay dry on the tee!
Nobody wants to be soaking wet after a round of golf, so let us take care of that!
Our clean logo umbrella is designed to provide maximum protection as it has a durable frame to withstand extreme weather conditions, meaning that wind and rain won't drive you off the course!
It has a fibreglass shaft with an ergonomic non-slip handle designed to give you maximum grip.
The two white panels on the umbrella can be printed on so all can see your brand. This is a perfect gift for those who constantly find themselves on the wrong side of the weather!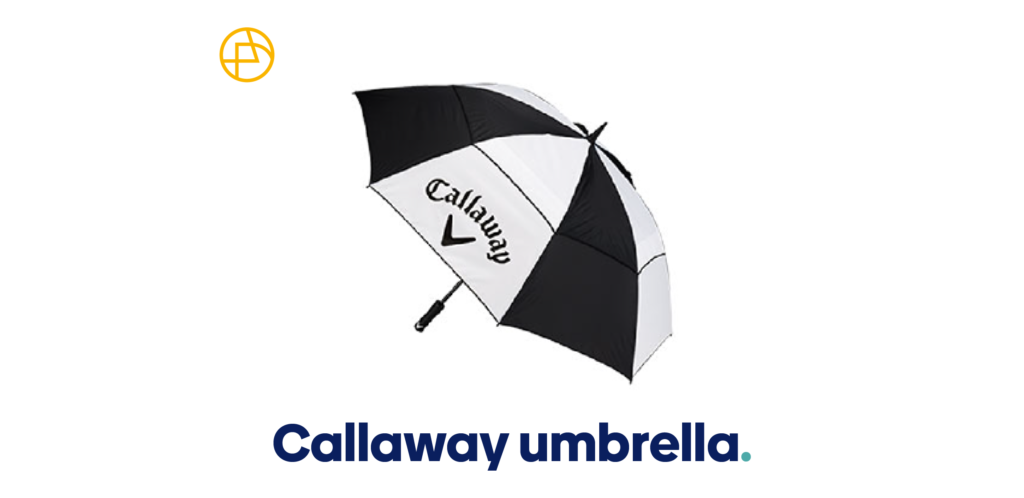 PRO V1 Golf Balls
With our Titleist Pro V1 golf balls, you will experience longer distance on all shots, lower long-game spin and even more consistent flight, along with drop-and-stop greenside control.
They have a very soft feel and long-lasting durability. Perfect for those looking to improve their game!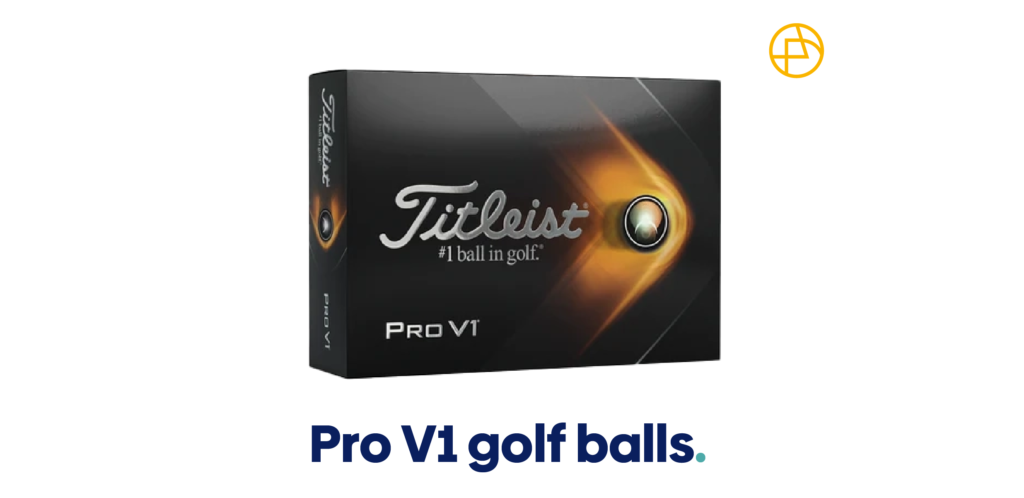 1ST TEE PACK
Make sure you're always ready to play with our Tee pack. It includes six tees, a pencil and a marker. Perfect as a corporate gift for those golf enthusiasts.
The pack is entirely bespoke too, so your branding can be easily added to the design.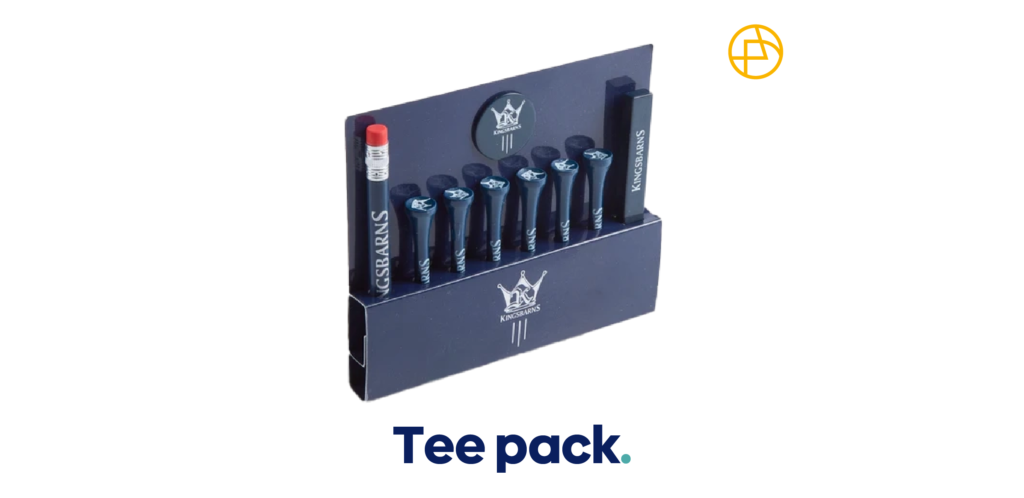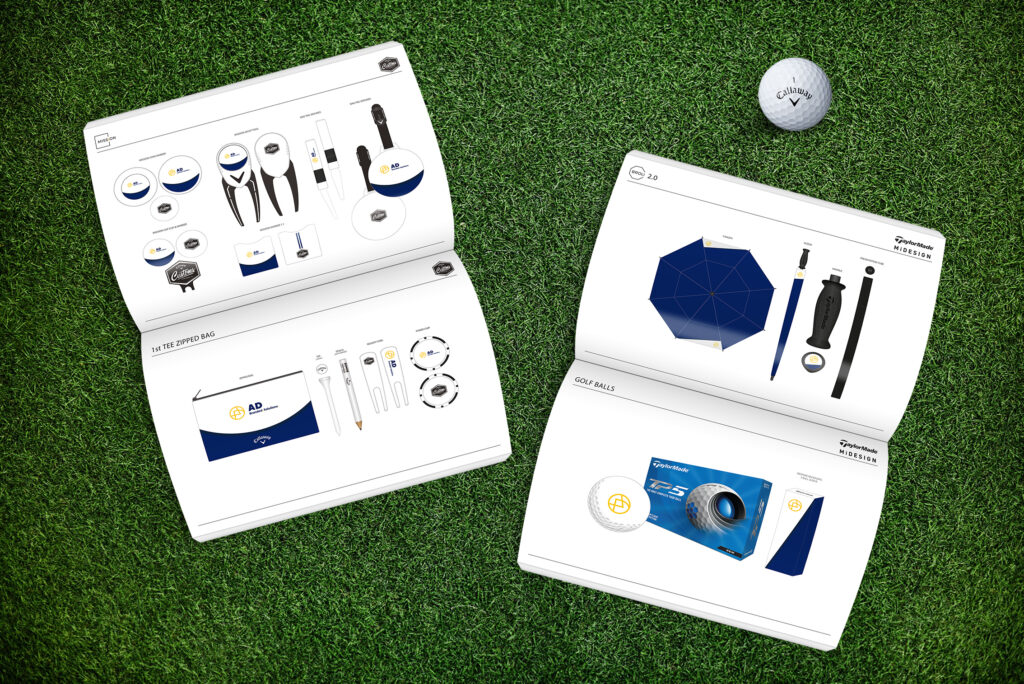 View our branded golf products here!
If you want to learn more about the types of products we have on offer and the different ways we can brand them to your needs, then download our brochure below!
Get football ready!
Take a look at footie products and score some awesome deals on branded football merch here!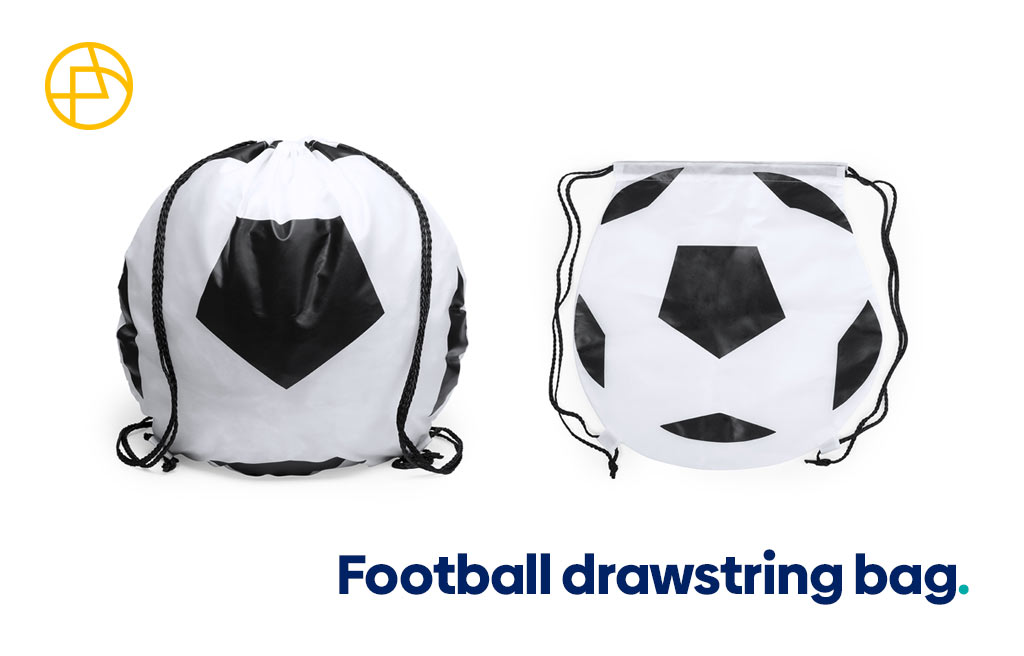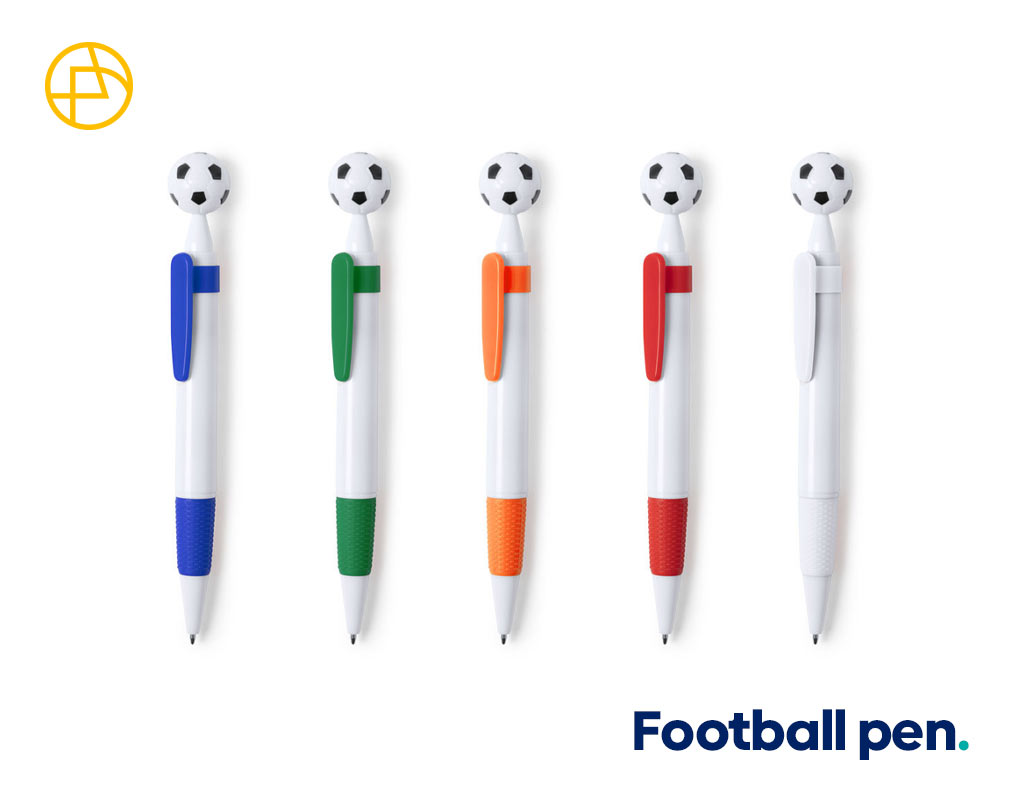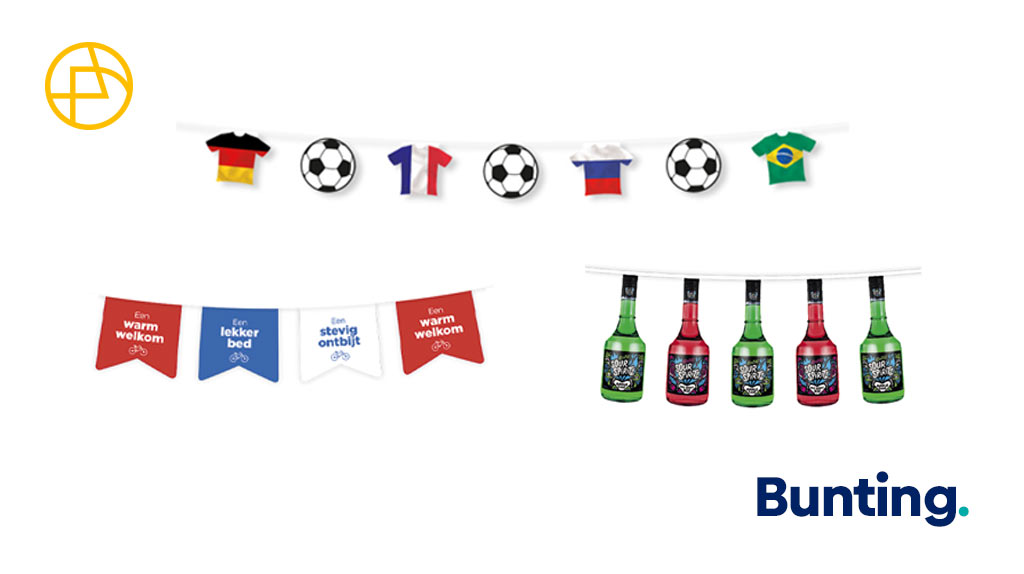 Time for Tennis!
Ready to serve up some great gifts for your tennis-loving clients? Look no further than our wide range of tennis products that are sure to score you some points. 
From stylish rackets to high-quality tennis balls, we have everything you need to ace your gifting game… 
Vinga Colos beach tennis game
Are you ready to have some serious fun at your next beach day? Look no further than our elegant beach tennis set! 
Made of beautiful poplar wood and featuring vegan leather handles, this set is perfect for a stylish crowd. Not only does it look great, but it's also easy to learn, making it suitable for everyone from the young to the young-at-heart!
The set comes complete with two rackets and two rubber balls, all packaged up in a convenient canvas bag, so you can take Wimbledon on the beach with you wherever you go. So, why settle for a boring game of frisbee when you can impress your colleagues and friends with your beach tennis skills? 
Order our beach tennis set today and get active this summer!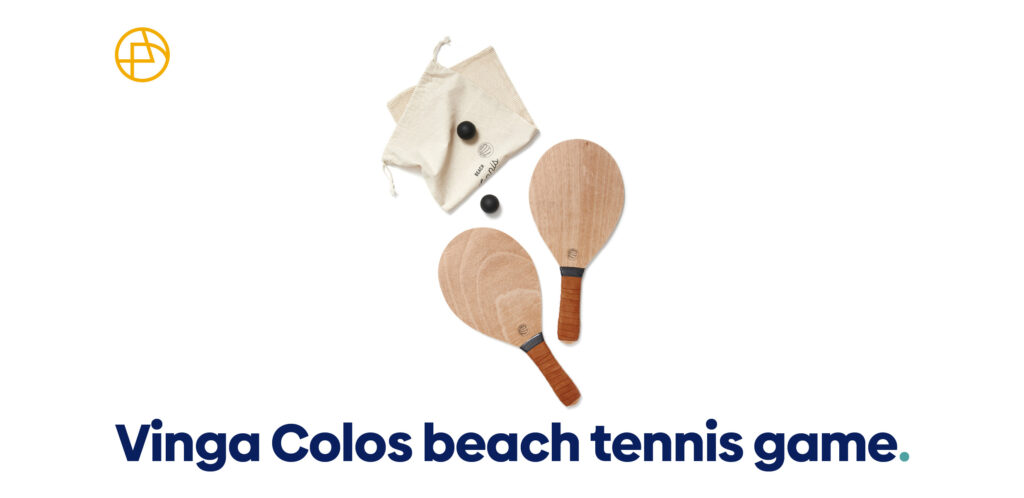 Table Tennis Set
Break the ice at your next get-together with our Table Tennis Set! 
This great little travel game is perfect for any occasion, whether you're hosting a team-building day or just looking to add some fun to your next barbecue. The set includes two bats, an extendable net, and three balls, so all you need is a table to get the game started. 
It comes packaged up in a convenient pouch, making it easy to take with you wherever you go. So have fun challenging your peers to a thrilling game of table tennis!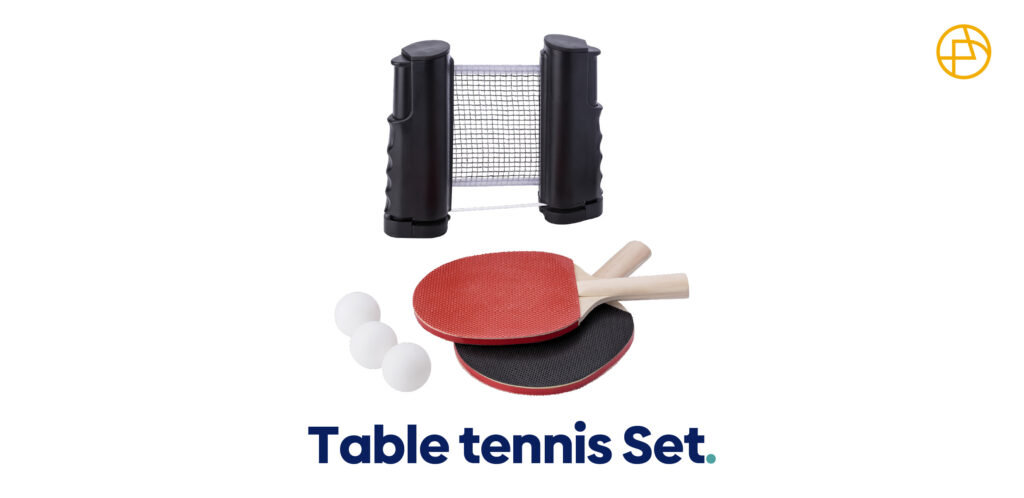 RPET Cooling Towel
Keep fresh and comfortable during hot summer months with our RPET Cooling Towel! 
Our top tip would be to simply wet it with water and wave it around to activate its advanced cooling effects, providing instant relief from the heat! 
The towel comes in two sizes, 80x30cm or 100x30cm, making it ideal for adults and children. 
Made from 100% recycled material, not only is it eco-friendly, but it's also fully customisable! Brand it up with your own full-colour design on one side, making it a great way to promote your brand or event.
Order yours today and stay cool all summer long!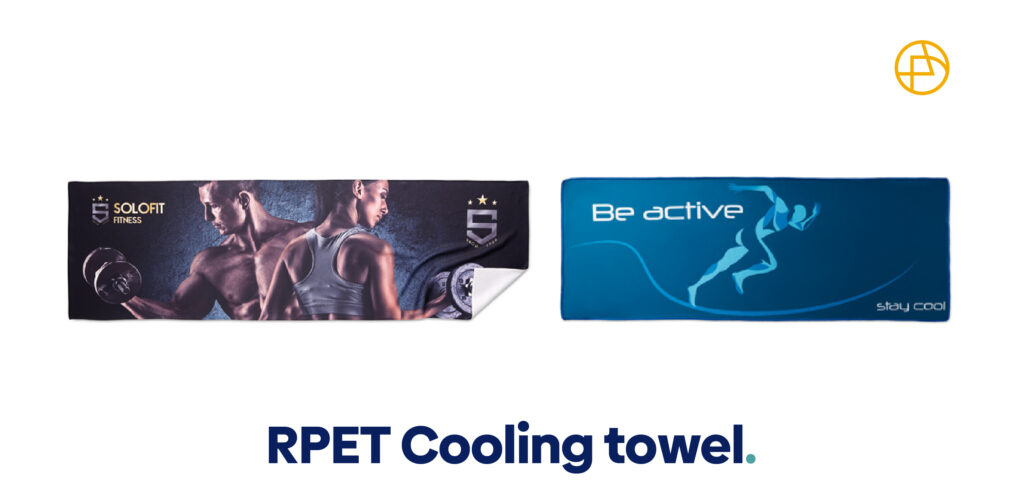 Trona 6-Panel GRS Recycled Cap
After a stylish and sustainable way to promote your brand at your next Tennis event? Then our Trona 6-Panel GRS Recycled Cap has you covered!
With a pre-curved visor and embroidered eyelets for ventilation, this cap is great for protecting your head from the sun while keeping you cool and comfortable while watching endless sets at the open!
And with a tri-glide metal buckle closure, it's easy to adjust to fit any head size. Not to mention it being made from 50% GRS-certified recycled cotton and 50% cotton, making this heavy brushed cotton twill cap environmentally friendly.
It can also be personalised with your own logo or design, making it a great way to promote your brand in a sustainable way!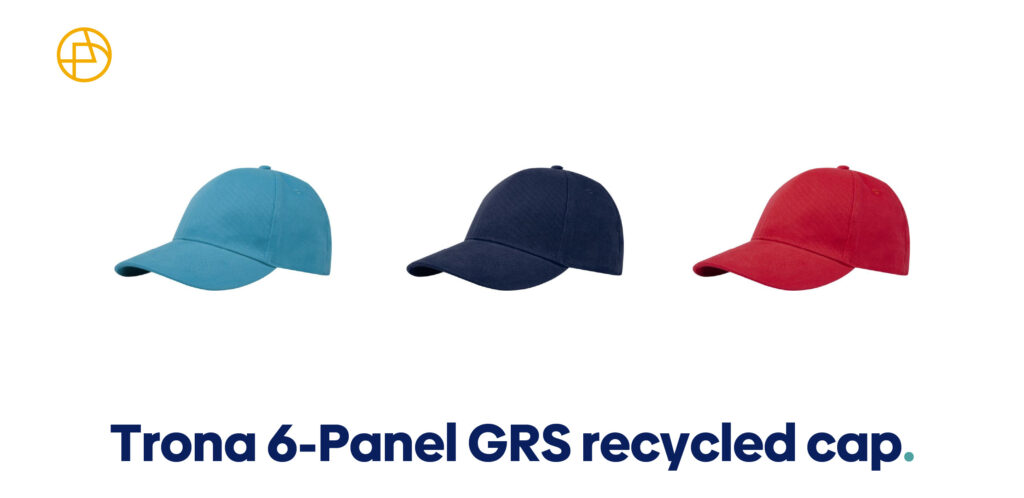 Cool Dude Cooler Bag
Want to be the coolest kid on the block this summer? Our Cool Dude Cooler Bag is the perfect way to keep your lunches or picnics nice and chilled. 
With ring pulls designed to look like eyes and a front pocket that looks like a smiley face, this fun and quirky cool bag will surely put a smile on your face every time you use it. 
Made from durable polyester material and insulated lining, this bag is practical and eco-friendly, so you can feel good when using it. And if you need to carry more than just a sandwich and drink, the Larvik large 15L cooler bag is ideal for Tennis! 
The strap can be used to carry a towel out onto the court with all the other essentials, making matchday a breeze.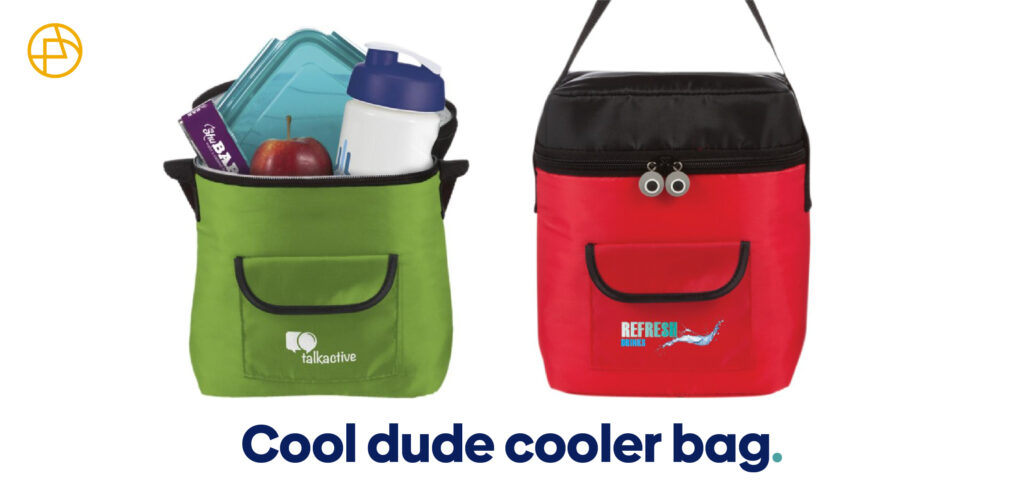 _________
To find out more about our sports products, get in touch and

Get in contact

!
Blog
Read all about it! Check out what Team A.D. has to say.
Learn more
Our solutions
Discover the ways that we can make your brand stand out and connect with people.
Learn more
hide