We'll be exploring a world of wonderful gifting, where every package tells a story and every gesture resonates with thoughtfulness.
In this blog, we'll delve into a curated collection of captivating products, perfect for B2B gifting. Whether you're looking to delight corporate clients, spread goodwill through charity gifts, or add charm to your next event, we've got you covered. 
From bespoke snow globes that capture the magic of the season to sustainable tea and coffee hampers that warm hearts, discover how to make your gift truly memorable. Let's unwrap the art of meaningful gifting together!
Personalised advent calendar 
Unwrap the magic of the holidays with our enchanting advent calendars. Bursting with the finest milk chocolates, lovingly crafted in the UK chocolate, these calendars are a delectable delight waiting to be discovered.
What sets them apart? They're not just a treat; they're a gesture of joy, easy to send to those who matter most. Picture your staff and clients greeted by your logo, a beacon of warmth, throughout the festive season. Your thoughtfulness will shine through each day as they indulge in a cheeky chocolate.
Choose from our charming house designs or craft a calendar that's uniquely yours. And don't forget to add a dash of personal magic with custom messages behind the doors!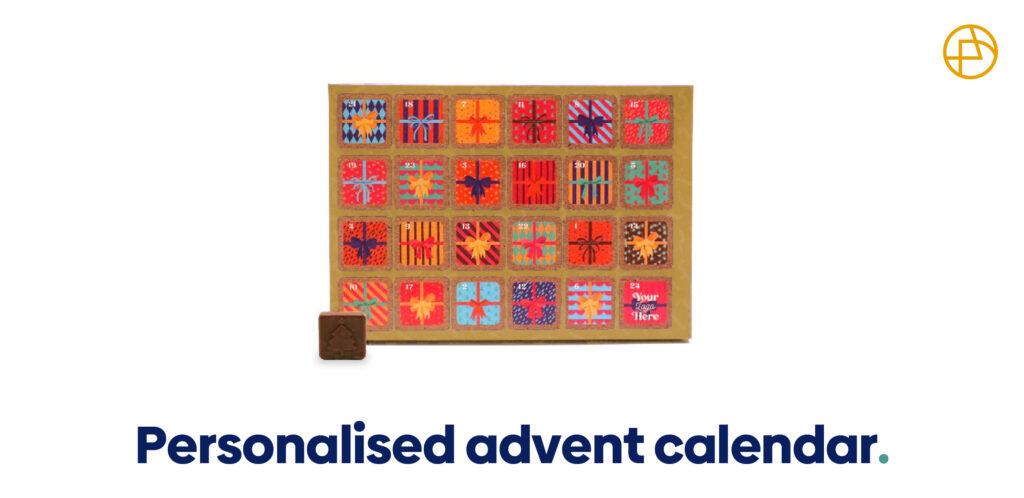 Christmas confectionery  
If there's a time for indulgence, Christmas is the perfect occasion! We have a delicious selection of confectionery gifts for you to choose from! 
One of our favourite items is the Winter Collection Midi Gift Box that's brimming with festive delights, carefully curated to be the ultimate corporate or event gift this Christmas.
Inside, you'll discover:
A luxurious 12 Truffle Box, a symphony of chocolatey bliss.

The Eco House box, home to two charming chocolate elves.

An Eco Maxi Cube containing six sumptuous chocolate discs.

The Eco Mini Match Box harbours two delightful white chocolate mice.

An Eco Sliding Box, revealing three lovely mallow mountains.

And, a Peppermint candy cane to stir up that winter magic.
Personalisation is our speciality, and each item in this merry midi box comes dressed in custom packaging, just like the box itself. Share your artwork, and we'll work our magic to create a truly bespoke gift.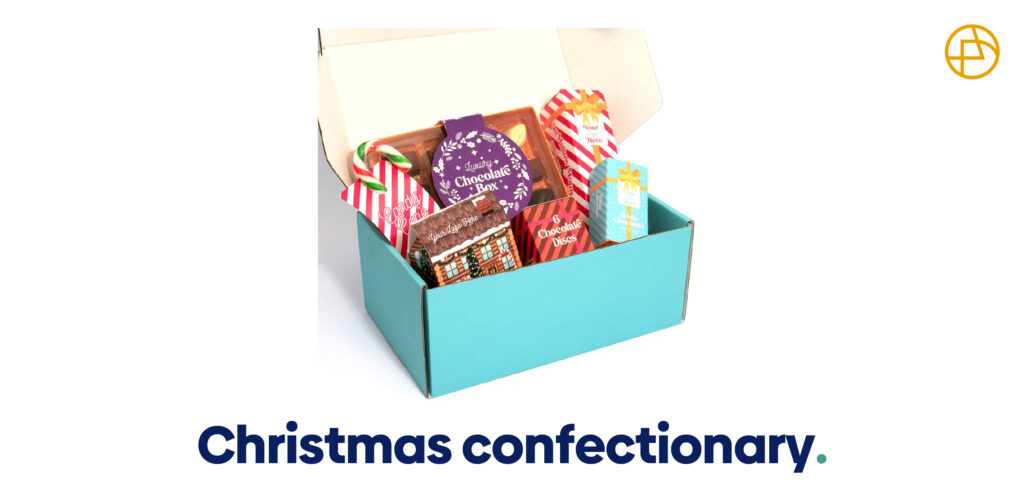 Please enter your name and email to download this resource.
Festive hampers 
We have an enormous range of festive hampers for you to choose from, including Christmas food hampers, afternoon tea hampers, cheese and cracker Christmas hampers with and without wine, classic Christmas hampers filled with chocolates and snacks and luxury hampers brimming with indulgent festive favourites. Take a look at our hamper catalogue for more inspiration. 
But, here are some of our favourite hampers…  
Wine & Chocolate gift box hamper: 
This tasteful ensemble comes in a rustic kraft gift box, setting the tone for a truly sophisticated experience. Inside, you'll find two 100ml glass tubes brimming with the finest wines from Domaine de Rombeau, a testament to refined taste.
This exceptional gift is thoughtfully paired with indulgent chocolate truffles, creating a harmonious blend of flavours that's sure to impress. Whether you're looking to make a lasting impression in the corporate world, show appreciation to valued partners, or add a touch of elegance to charity or event gifts, this wine and chocolate gift box hamper is the ideal choice.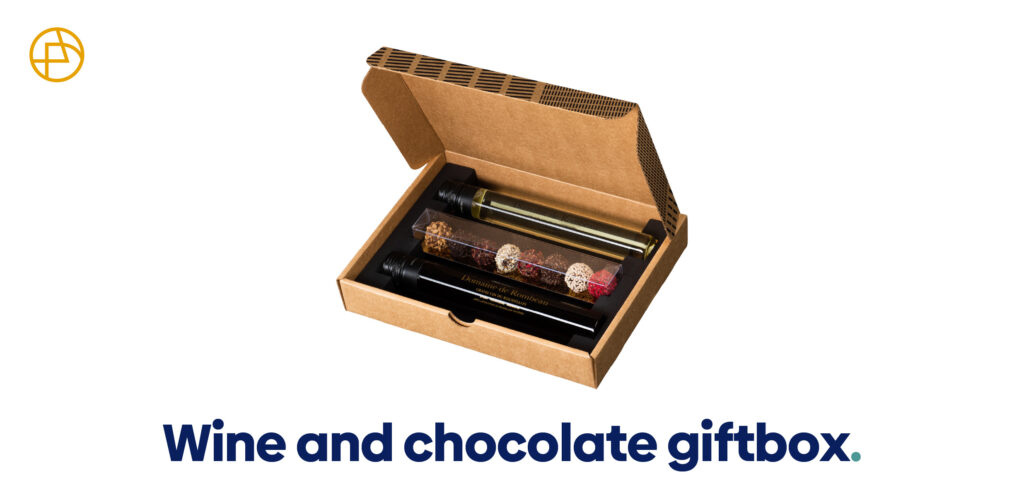 Designed with care, this alcohol-free hamper is the perfect way to spread holiday joy in the corporate, charity, or event setting. Surprise friends and colleagues with an abundance of festive treats that celebrate the spirit of the season, minus the alcohol!
Inside this cheerful hamper, you'll find an array of delights, from Abbey Biscuits' Salted Caramel Crunch to Thornton & France's Christmas Tree confection. It's a symphony of flavours crafted to make gifting truly memorable.
Plus, individual UK deliveries are available, making it easier than ever to share the festive cheer with everyone on your list. Delight recipients with the Christmas Gift Box and watch faces light up with joy. Cheers to a season of sharing, caring, and indulgence!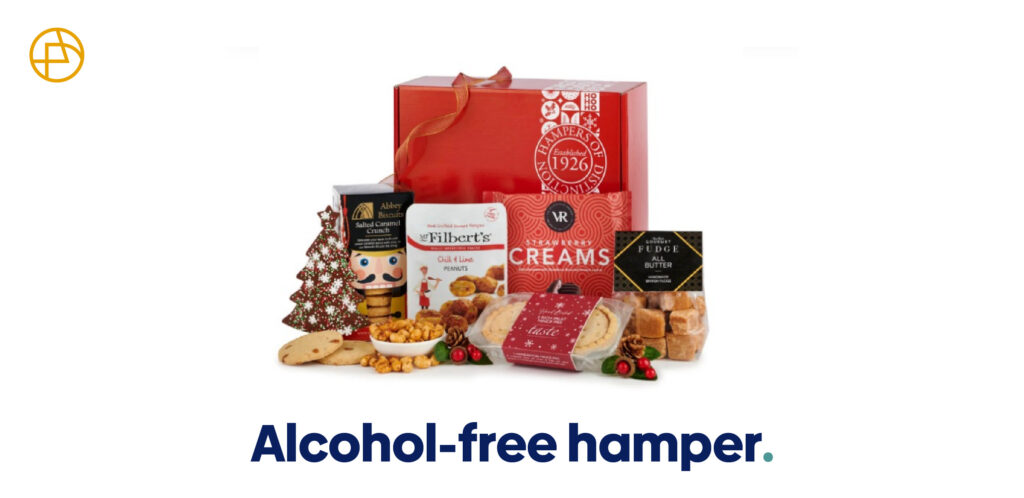 Inside our Sustainable Christmas Tea & Coffee Gift Hamper, you'll discover an assortment of comforting treats – from fragrant teas and rich coffees to indulgent hot chocolates and decadent cakes.
What makes it even more appealing? It's a gift that keeps on giving to the planet. Crafted from sustainably sourced ingredients and packaged in eco-friendly materials, every sip and bite comes with a side of eco-consciousness, making it perfect for corporate, charity, and event aficionados!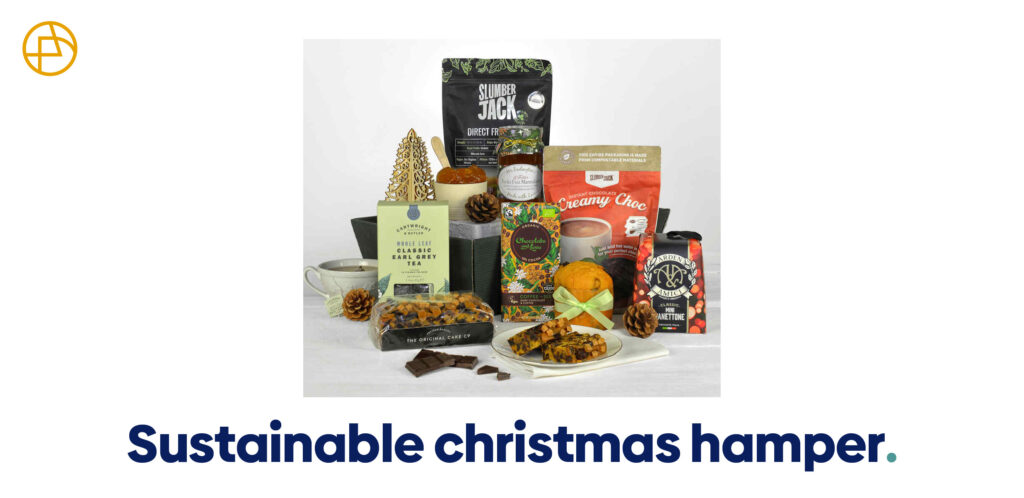 Christmas gift sets
We have a stunning selection of Christmas gift sets including scented candles, stylish throws and fashionable accessories, but if you're looking for a thoughtful gift that shows you care, we have the perfect solution! 
The Deluxe Mailable Gift Set is a lovely letterbox gift that's sure to surprise his luxurious package is filled with vegan items, including 50ml each of hand cream, shower gel, and body lotion in a revitalising mandarin fragrance.
Crafted from sugarcane and produced in the Netherlands, they're as eco-friendly as they are elegant.
Hailing from Amsterdam, The Gift Label is on a mission to create unique, joy-spreading gifts that are a delight to both give and receive. Take your gifting experience to the next level with this European-made treasure.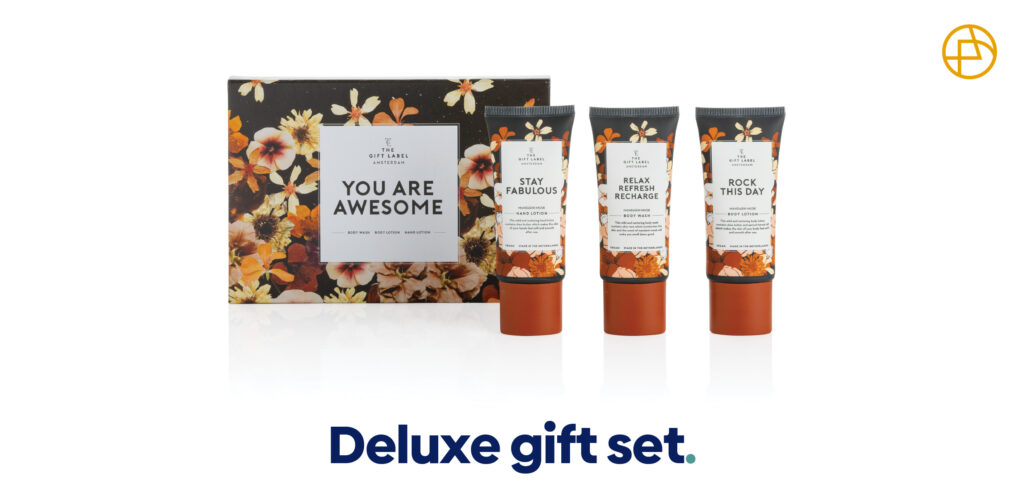 The VINGA Verso blanket is a chic and versatile addition that is perfect for gifting this Christmas. Its elegant geometric pattern effortlessly complements any decor, adding a touch of class to any space. 
Crafted from high-quality synthetic material, it's easy to keep clean without sacrificing that luxurious wool-like feel. It's also manufactured to Oeko-tex standards, so it combines style, comfort, and eco-consciousness in one beautiful package.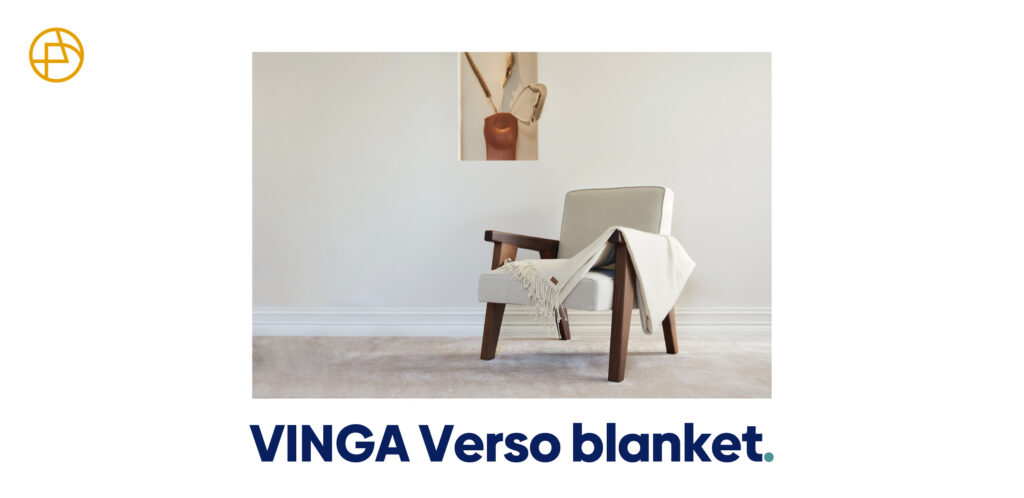 Create a perfect relaxing experience this Christmas with our Ukiyo Candle and Fragrance Sticks Gift Set, ideal for gifting this holiday season. People will love to unwind as the delicate scent of jasmine fills the winter air, courtesy of the fragrance sticks and soy wax candle. 
With 10 hours of burn time, this set promises pure bliss. Presented in an eco-friendly kraft gift box, it's a thoughtful gift that sparks serenity and renewal.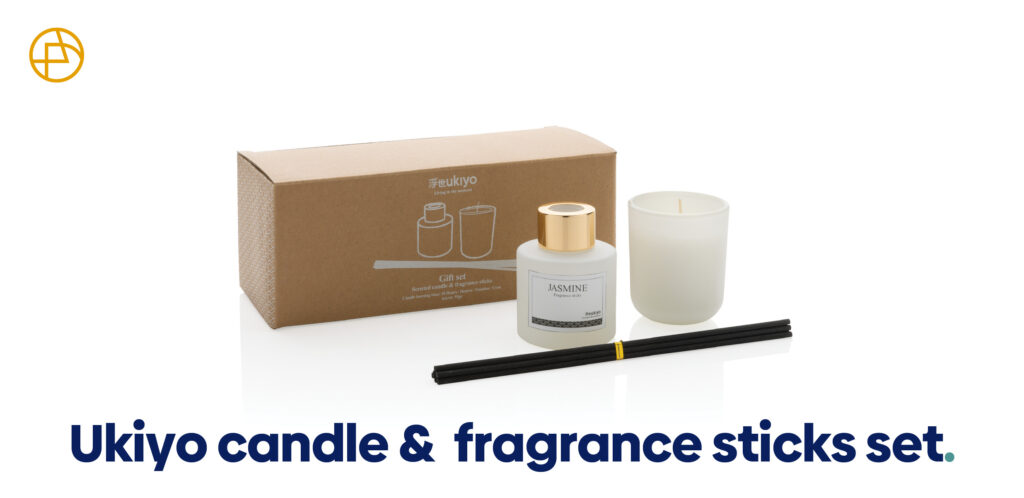 Luxury branded gift sets
Get ahead of your corporate gifting this Christmas season with the smart ICE steel watch. Crafted for trendy professionals, this stainless steel timepiece is a statement of style and sophistication.
The men's watch exudes elegance, adding a unique edge to your everyday outfits. Its large blue dial trimmed with gold and white details shows its modernity.
Whether it's for a valued client, a dedicated employee, or a deserving partner, the ICE steel watch encapsulates the essence of refined corporate gifting, offering a gift that truly stands the test of time!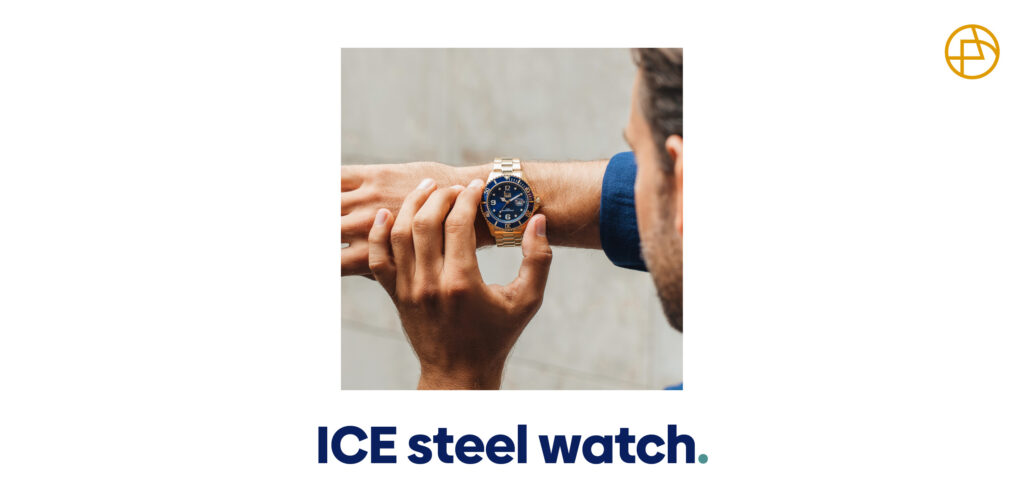 Luxury gifting is easy with the Cerutti Brick accessory pack from the exclusive Brick collection. This imaginative assortment breathes fresh life into everyday essentials, redefining the art of gifting.
The Cerutti Brick accessory pack includes a curated selection of casual, yet stylish items, including a versatile washbag, a sleek flask, a beautifully designed pen, and a handy micro wallet.
With its beautiful colour palette, eye-catching logos, and effortlessly casual aesthetics, this pack represents youthful charm and modernity, making it an ideal choice for corporate gifting that leaves a lasting impression. 
Choose the Cerutti Brick accessory pack and delight recipients with a touch of luxury this Christmas.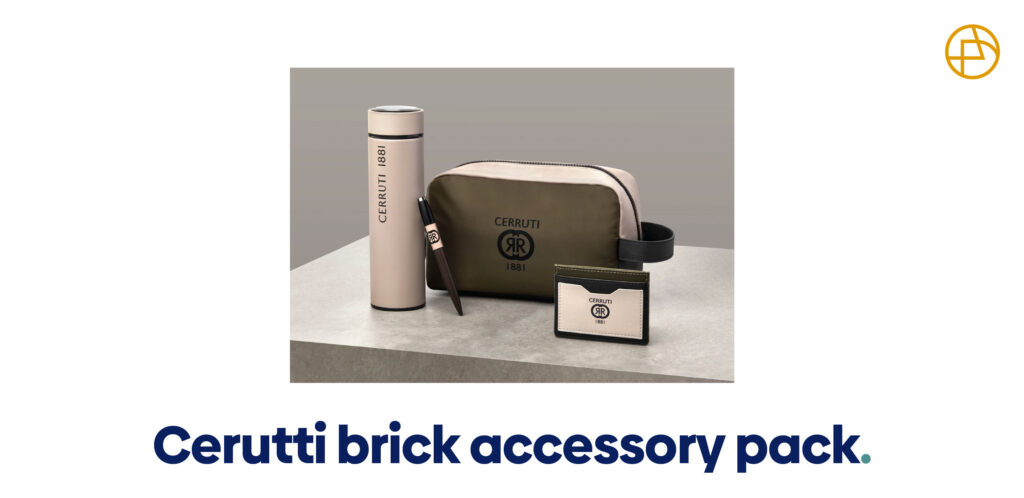 The Hugo Boss wireless speaker has been crafted with a lot of attention to detail. Its sleek design and compact, lightweight build make it perfect for life on the go. With a generous five hours of playtime, it's the perfect companion for both work and leisure.
The Gear Matrix wireless speaker is designed for seamless connectivity, featuring a USB-C port for easy recharging and the ability to connect to your smartphone and intercept calls through Wi-Fi.
When it comes to audio quality, this 3-watt speaker delivers an exceptional listening experience, ensuring that your gift not only looks good but sounds great. 
Choose the Hugo Boss wireless speaker as the perfect corporate gift this Christmas, combining style, practicality, and superior sound in one impressive package.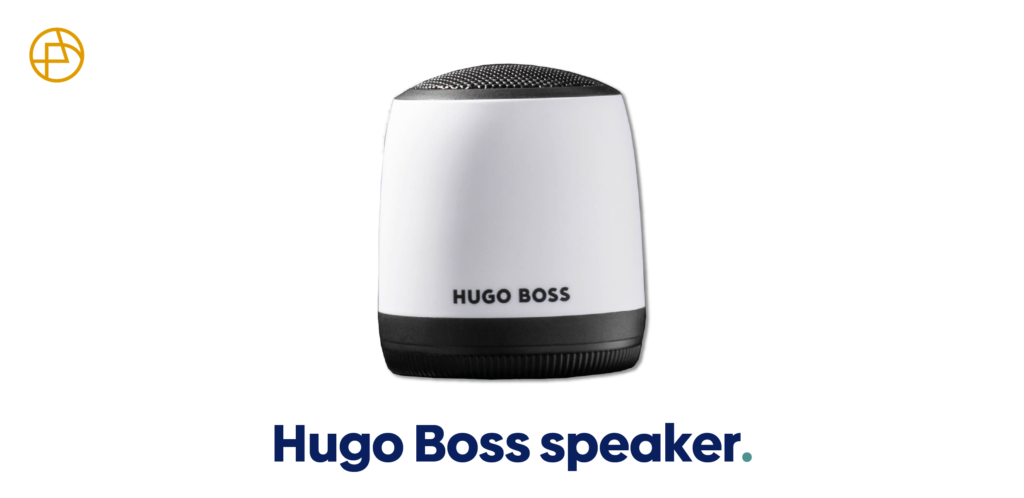 Experience travelling in style with the Cerutti Hamilton travel bag. The perfect travel companion, this set comes in a luxuriously soft, black-grained material that looks high-end.
The Cerruti 1881 shiny chrome metal signature trims the bag's top, adding a touch of understated luxury. The detachable strap is not merely functional but a fashion statement, featuring the meticulously woven Cerruti 1881 logo.
An essential for short journeys, the Cerutti Hamilton travel bag blends practicality and opulence. Whether for esteemed clients or cherished colleagues, this gift represents style and substance, leaving a memorable mark this festive season.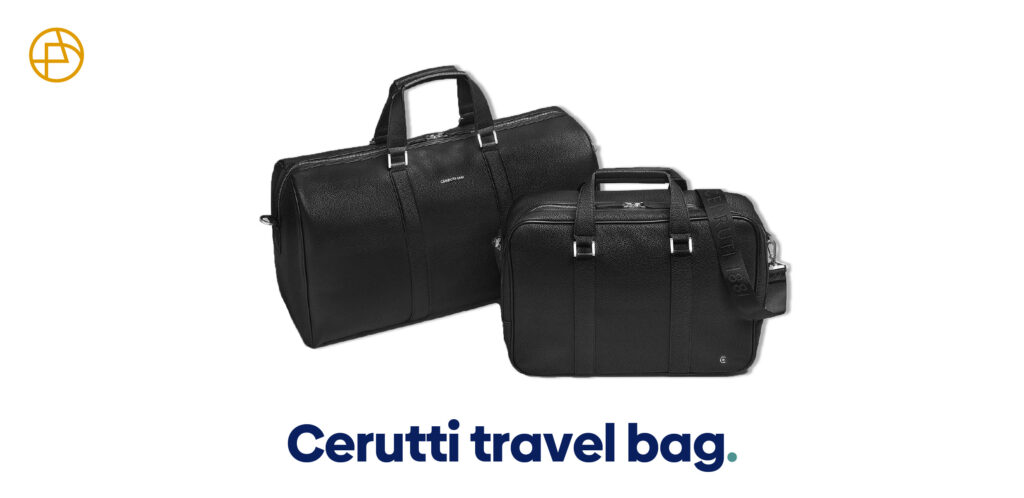 Spice up your corporate gifting game this holiday season with Cacharel's Timeless Accessories collection – a selection of versatile, chic items that'll put a charming twist on your festive gestures.
The Timeless Pocket is a small clutch that's as clever as it is stylish. By day, it's your trusty wallet, and by night, it morphs into an evening bag thanks to its attachable strap. It's not just practical; it's packed with personality, featuring exterior pockets, a roomy interior for cards, and the unmistakable Cacharel signature.
The Timeless Sunglasses are the embodiment of retro-chic with their round shape and glitzy gold metal accents. They sport the sassy Cacharel logo on the temples and offer top-tier sun protection.
Then there's the Timeless Beauty Case. It's got more storage space than Mary Poppins' bag! The golden Cacharel signature adds a touch of glam to its body and zipper.
Our Timeless Accessories are the perfect gift for your standout clients and partners.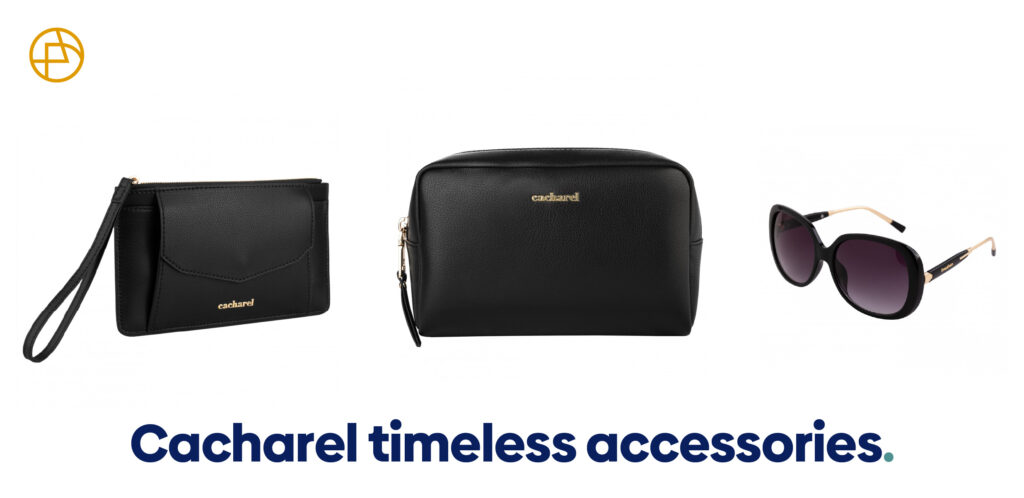 Cracker gifts 
Our Hero Cracker Gift Set is the ultimate branded Christmas surprise for any festive party, whether you're holding a corporate dinner, charity event, or special occasion. This isn't your ordinary cracker; it's a burst of joy wrapped in durable, full-colour branded packaging.
You choose what goes inside, but some of our favourite treats include brandedwireless chargers, and selfie lights, so they can capture the fabulousness of the party all night long!
Whether you're planning a memorable brand-themed Christmas party or want a unique branded gift, these crackers will help your evening go off with a bang!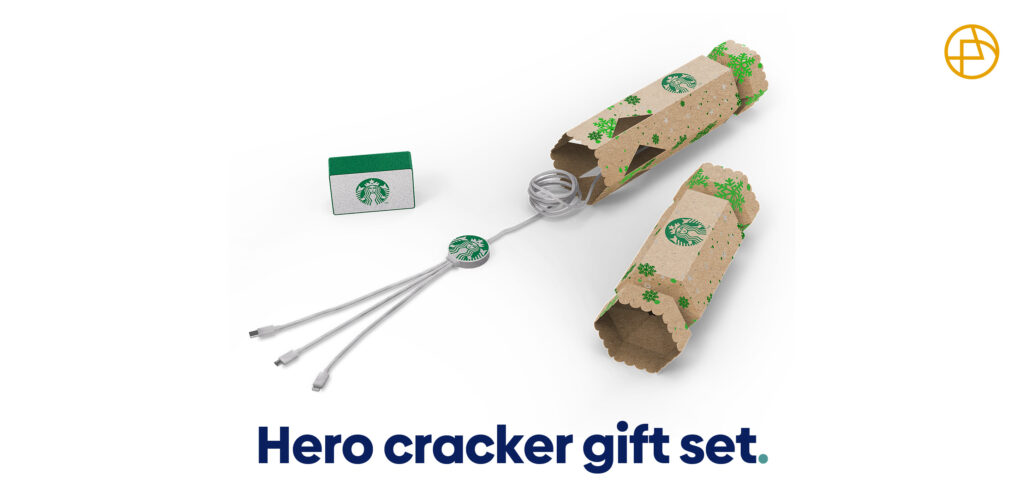 Designed to bring joy to corporate, charity, and event gifting, our Christmas Cracker Gift Set isn't your ordinary cracker. It's a burst of festive fun in full-colour digital print. Inside, discover a 100g candle and a 10ml sparkling wine-flavoured lip balm, both environmentally conscious and cruelty-free.
Not only do we believe in spreading holiday cheer, but also in sustainability, with plastic-free recyclable packaging. Our products are suitable for vegetarians, crafted from natural ingredients, and our candles are a soothing blend of vegetable and soy wax. Gift with a conscience this season!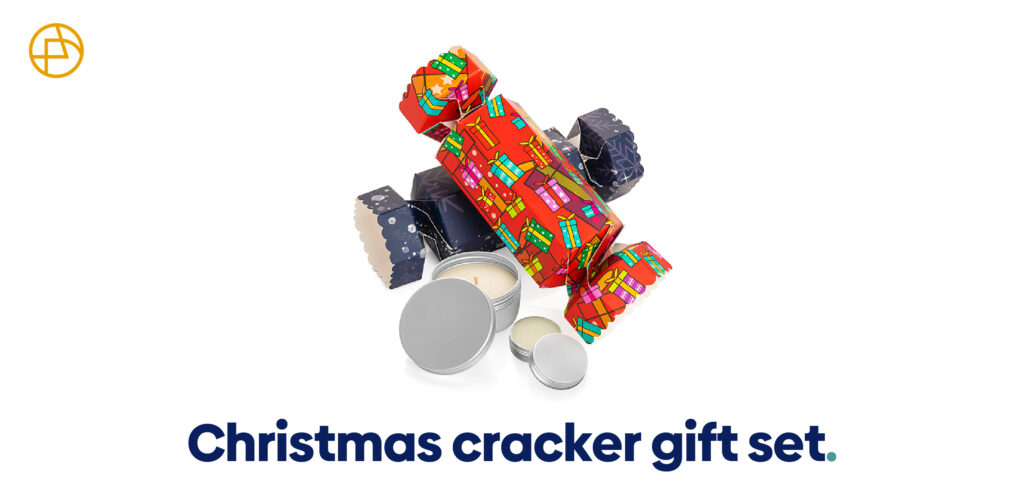 Novelty Christmas gifts
Bespoke Branded Snow Globes are a unique touch for charity or event gifting. These enchanting snow globes are the ideal canvas for personalisation, offering base printing and bespoke snow options.
From 'photo-globes' adored by schools and Santa's grottos to the easy-to-personalise 'modern round,' our range includes 'classic oval,' 'classic round,' and grand round options. Choose from various scenery and even incorporate a 2D perspex shape inside. 
Make your gift stand out with this perfect novelty addition!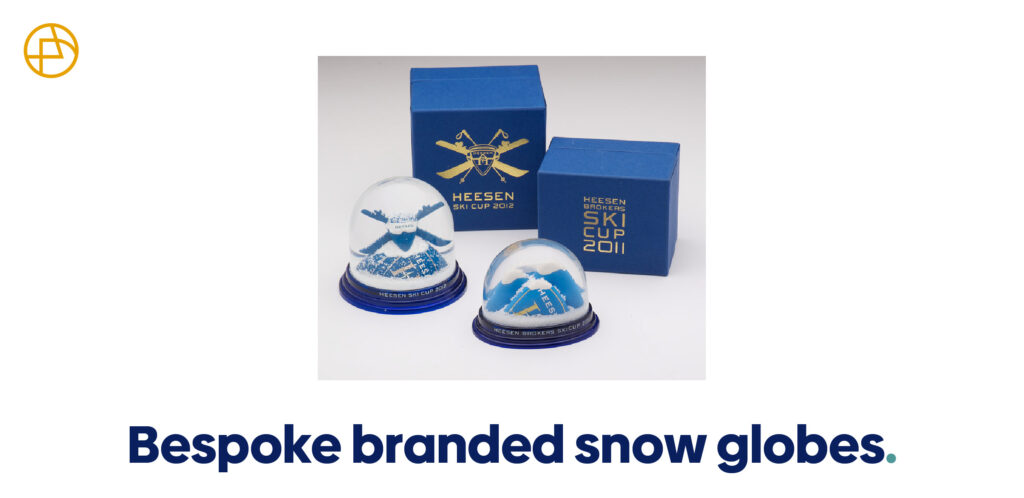 Add some festive magic to corporate or charity gifting with our Branded Christmas Tree Baubles. These versatile baubles come in 60mm, 70mm, and 80mm sizes, ready to be personalised with inks and glitters, from one-colour prints to intricate picture printing.
For added peace of mind, we also offer shatterproof and fireproof options ranging from 50mm to a grand 600mm diameter. Looking for something truly exquisite? Explore our hand-painted glass baubles, a work of art painted on the inside, complete with a gift box. 
Make this season's gifting sparkle and shine!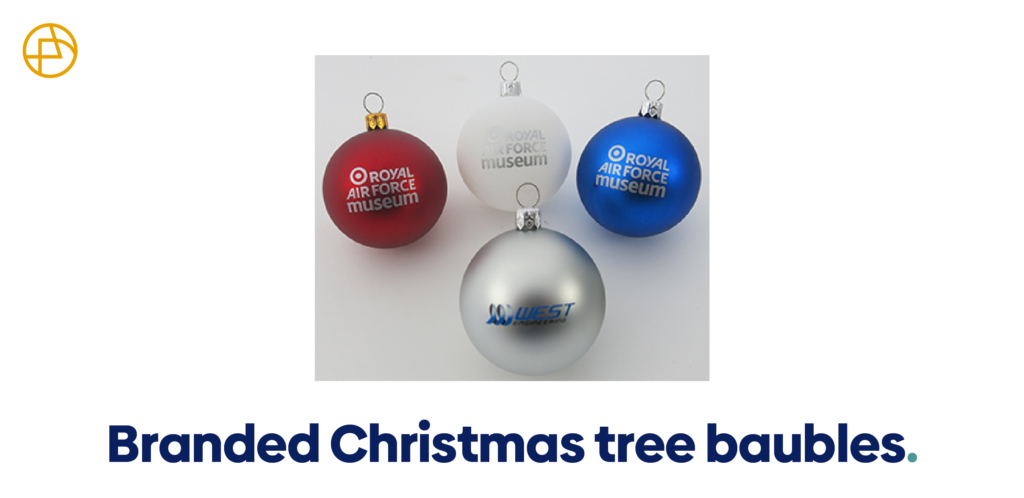 Gift wrapping and personalised packaging
Take your gifting game to the next level with our Large Gift Bags, tailor-made for corporate and charity events. These elegant paper bags, adorned with a classy snowflake pattern, offer a sense of sophistication to your presents. 
Complete with a gift tag, they're the perfect choice for adding a personal touch to your Christmas packaging. Make gifts stand out in style!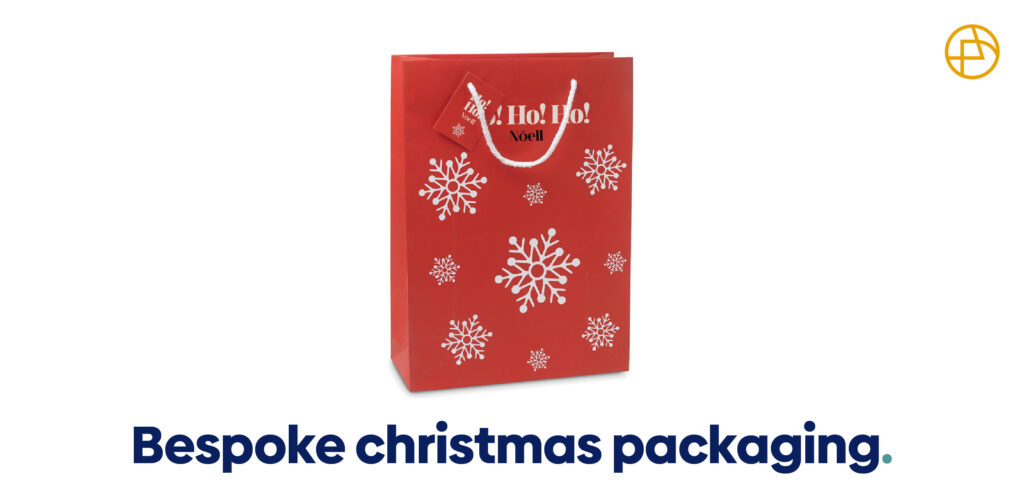 Start spreading the Christmas joy today and get in touch to make your Christmas gifting a reality!
Blog
Read all about it! Check out what Team A.D. has to say.
Learn more
Our solutions
Discover the ways that we can make your brand stand out and connect with people.
Learn more
hide