We're big advocates of recycling at A.D. – and it's not just about recycled materials. Our planet and people matter a lot to us, and if we can make a positive change, we will.
Doing what we can for the environment is more important than ever nowadays – which is why we greenify. We love to share how others can help too. So this recycling week, we're shining a light on this important topic and encouraging you and your brand to get involved.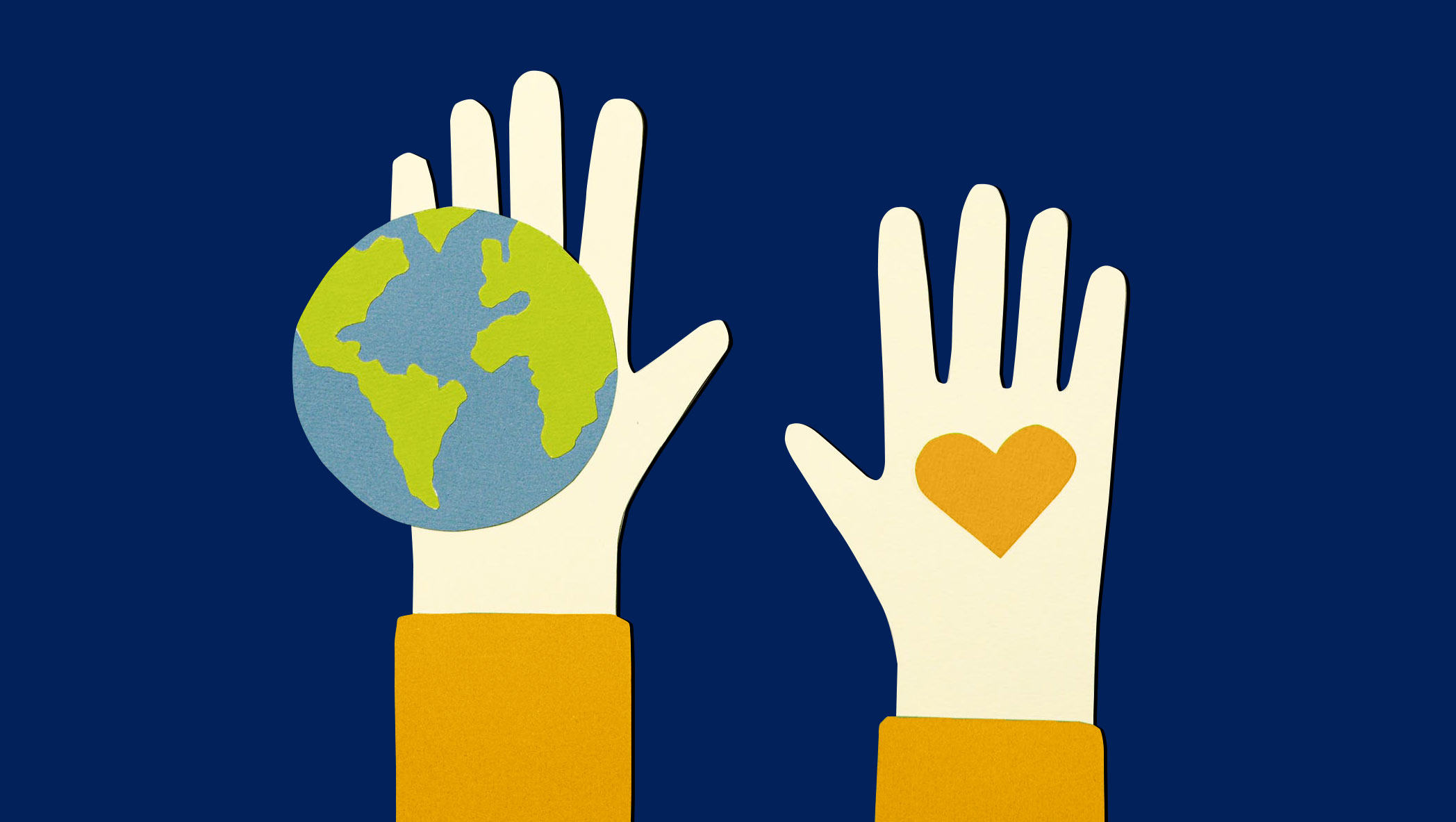 If we reduce the amount of waste that ends up in landfills, we'll reduce the pressure on the environment. There's so much more to recycling than just throwing something in the bin that you think it belongs to – and at first, it can be a slightly daunting exercise to figure out.
The plethora of recycling regulations makes it difficult to get into the swing of recycling, even when you really want to. 
That's why we've put together five helpful tips to get you into the recycling groove and help reduce your carbon footprint as a business.
1. Get organised. Get together. Get going.
When it comes to recycling, one of the biggest obstacles is knowing what goes where and when. Our advice? Get organised.
Organisation helps us get into a solid routine at work and at home. At the start, it can be a bit overwhelming remembering where everything has to go, but if you get organised early, we're sure your recycling strategy will be a breeze. 
A.D. top tip? It's a team effort (always). Get everyone around you involved. Getting into a routine can be even easier if everyone is playing a part. Making recycling one big communal task that you can all play a role in will seem so much easier than standing alone in front of your bin figuring out whether or not you can put that plastic tub in with the rest of them.
Reminding each other of the benefits of recycling is also a great way of organising yourself – if you can tangibly show the positive effects recycling provides, you can cultivate a sense of community that makes recycling seem second-nature. 
Extend out to your neighbourhood or community – not only will it help create awareness for the need to recycle, but it can also make it more fun to do so.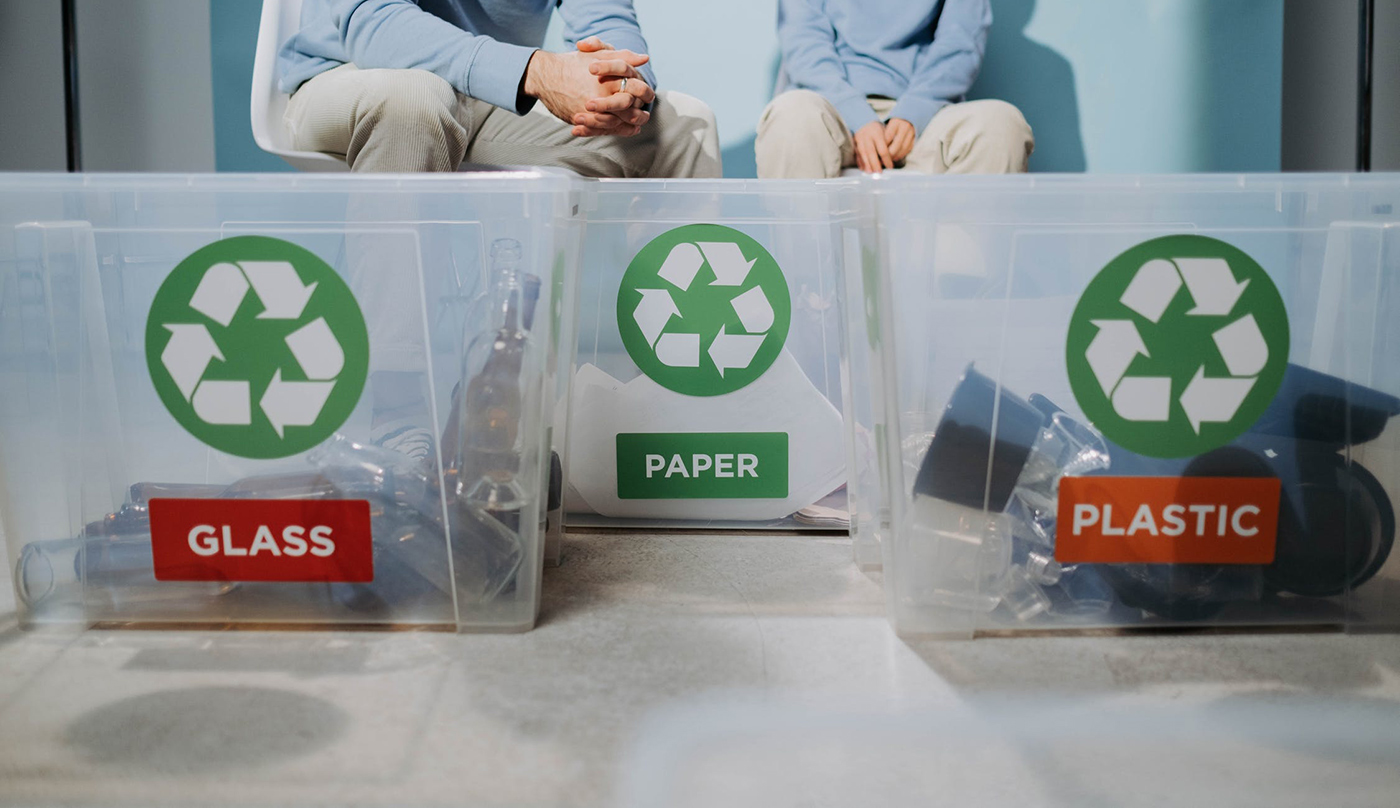 2. You have to do it properly
Source the right tools for recycling. In other words, make sure you have the correct bins for the different materials. That way, you can recycle on-demand as you need to.
If you're a business like us, it's also worth checking out whether or not you can recycle things that aren't so easy. Online tech recycling sites are convenient for selling old tablets, mobile phones and other small gadgets. It's also possible to get your electronics (like fridges and TVs) picked up and recycled. For example, Currys run a service that recycles over 65,000 tonnes of electrical goods each year. It really is worth considering making recycling a part of your business sustainability strategy.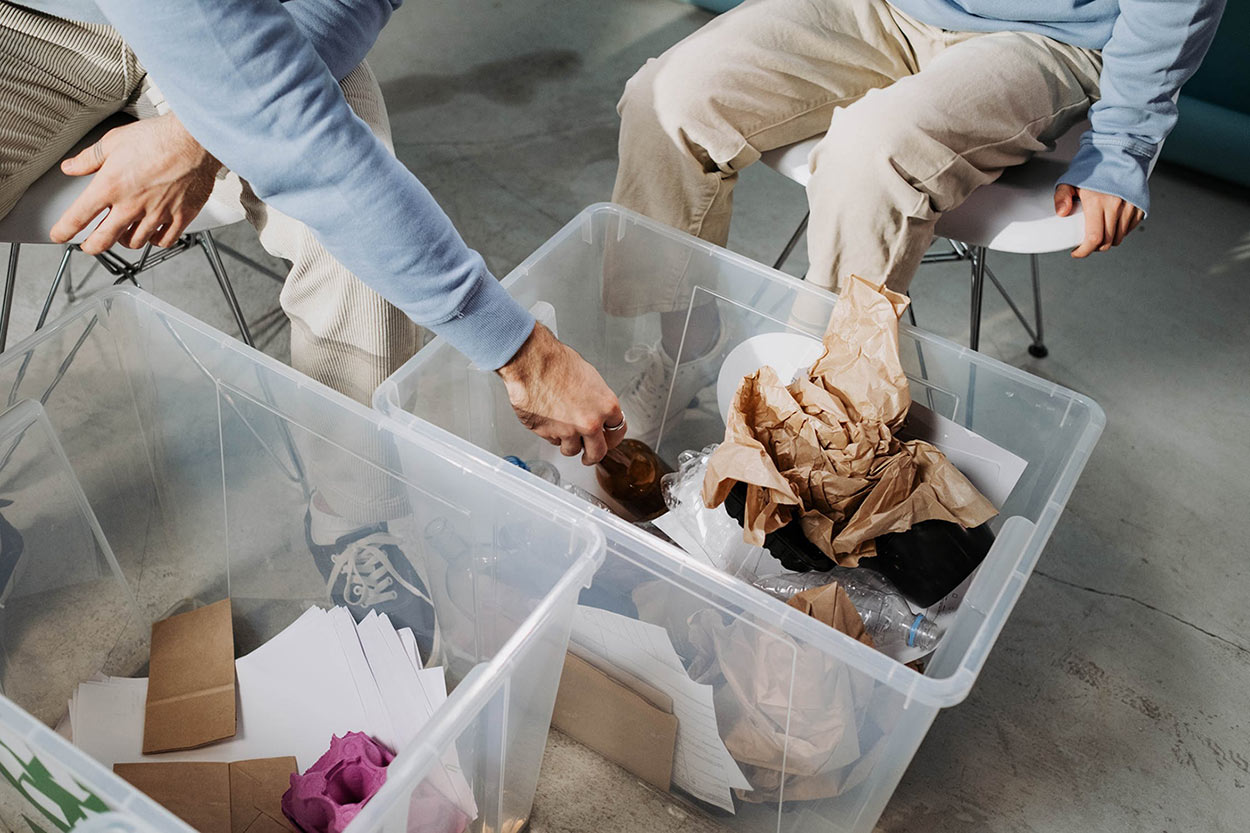 3. Get creative
We're creative here at A.D., so recycle creatively too!  We're only human, so things get broken from time to time, which often means things get thrown out before they really need to be. You might have plenty of broken teacups, picture frames, furniture or other everyday items that you think belong in the bin, but ask if it can serve another purpose – can you make tea lights from bottle caps, or turn the broken cup into a jewellery trinket? Could the bottle you're about to throw become a vase?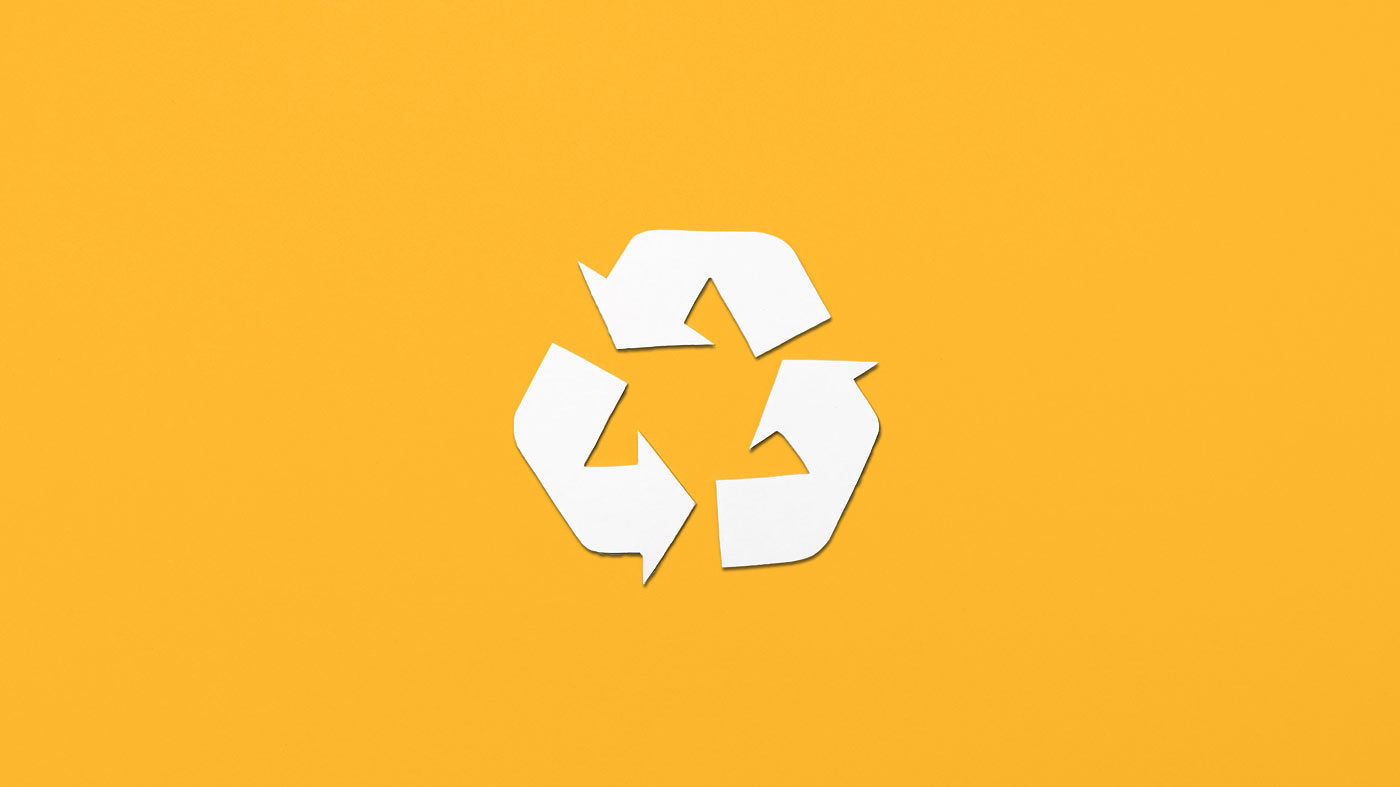 4. Spread the word. Save the world. 
One of the most important things you can do to get more people to recycle is to talk about it!  Small changes are better than no changes, and you can start by finding out about our sustainable options. 
Recycling is great – but what about preventing waste in the first place? As a business, you could make more sustainable choices:
If you go shopping at lunch or for the company, take your own bag. This way, you don't have to use plastic bags unnecessarily. And, before going shopping, make a list: this will help you avoid impulse purchases or buying things you don't need.
Use refills: buying refills of detergents, coffee and hand wash is more environmentally friendly and is usually cheaper too! We can all make better-informed purchasing choices.

Consider recyclable packaging: Excess packaging isn't good for the environment. Look for unpackaged products or buy products that are packaged in recyclable material. Avoid disposable items where possible.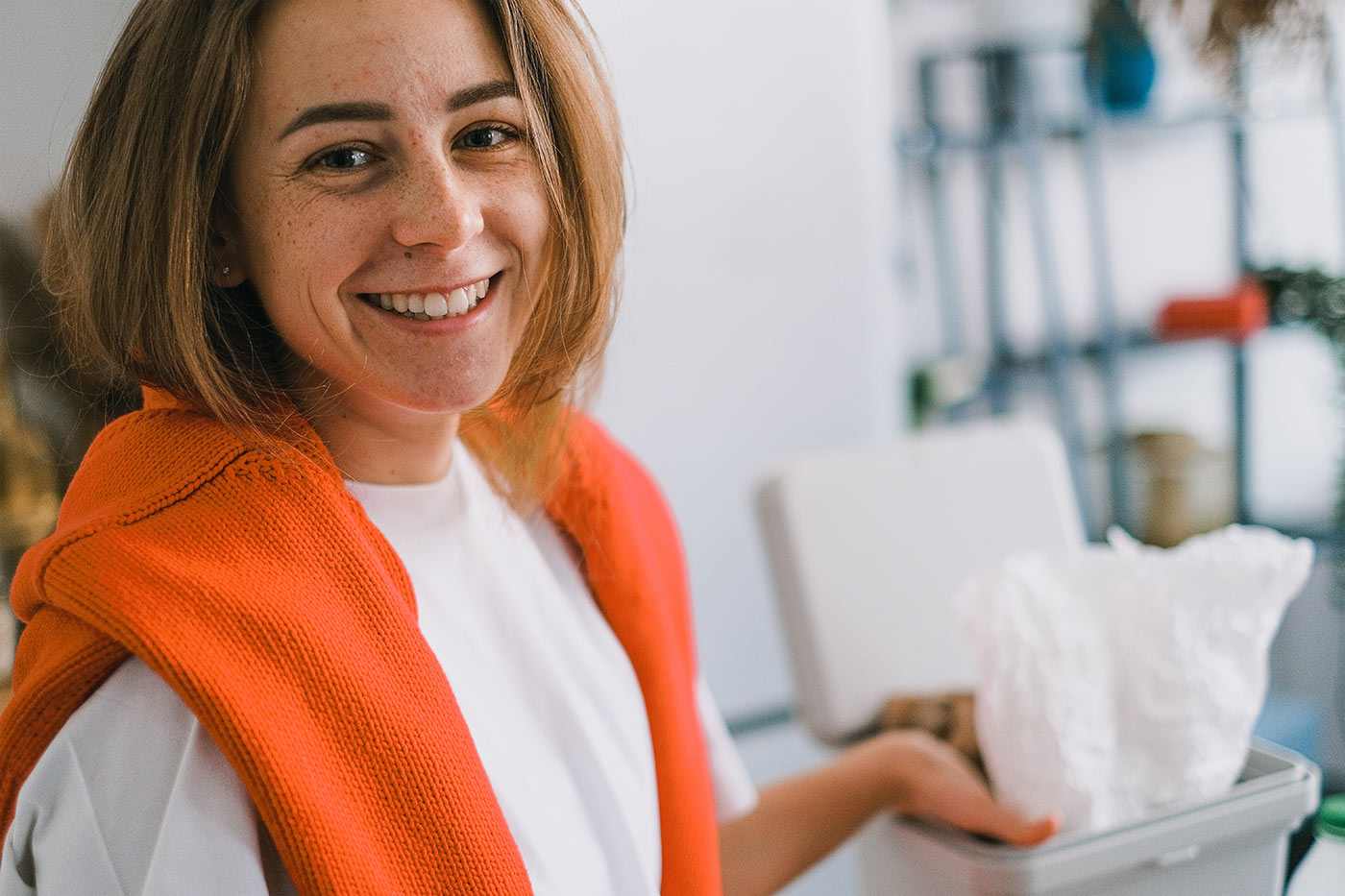 5. Keep learning
We need to start thinking about what we recycle – beyond plastic bottles and cardboard boxes. Depending on your local recycling services, around half of what goes in your waste bin could potentially be recycled. 
Find out more here https://www.recyclenow.com/local-recycling 
Team A.D. are big advocates for our precious planet. You can find out what else we do to help our environment in this article.
Let's make something awesome together
And lastly, if you'd like to find out more about how we do our bit or want to discuss our plastic-free options and sustainable solutions – then get in touch with us today.
Blog
Read all about it! Check out what Team A.D. has to say.
Learn more
Our solutions
Discover the ways that we can make your brand stand out and connect with people.
Learn more
hide