Fancy some A.D. product inspiration? Well, you're in luck, because we've put together our top picks for 2022 (just for you!).
Promotional products are not just about the customer receiving an item and that being the end of it…
Why? 
They influence other people in their networks, giving your business the social lift needed to put a company ahead of its competitors. They can increase brand awareness and are a cost-effective way to reach out to existing and potential customers. 
We only select the best products when it comes to promotional merchandise, so we asked the team what their top picks are for the following year. We wanted to show some of our best fun, innovative and sustainable products!
Here's what they picked…
We've discussed when a pen is more than just a pen, here and our first product is that! 
Iconic BIC® 4 Colours® ballpen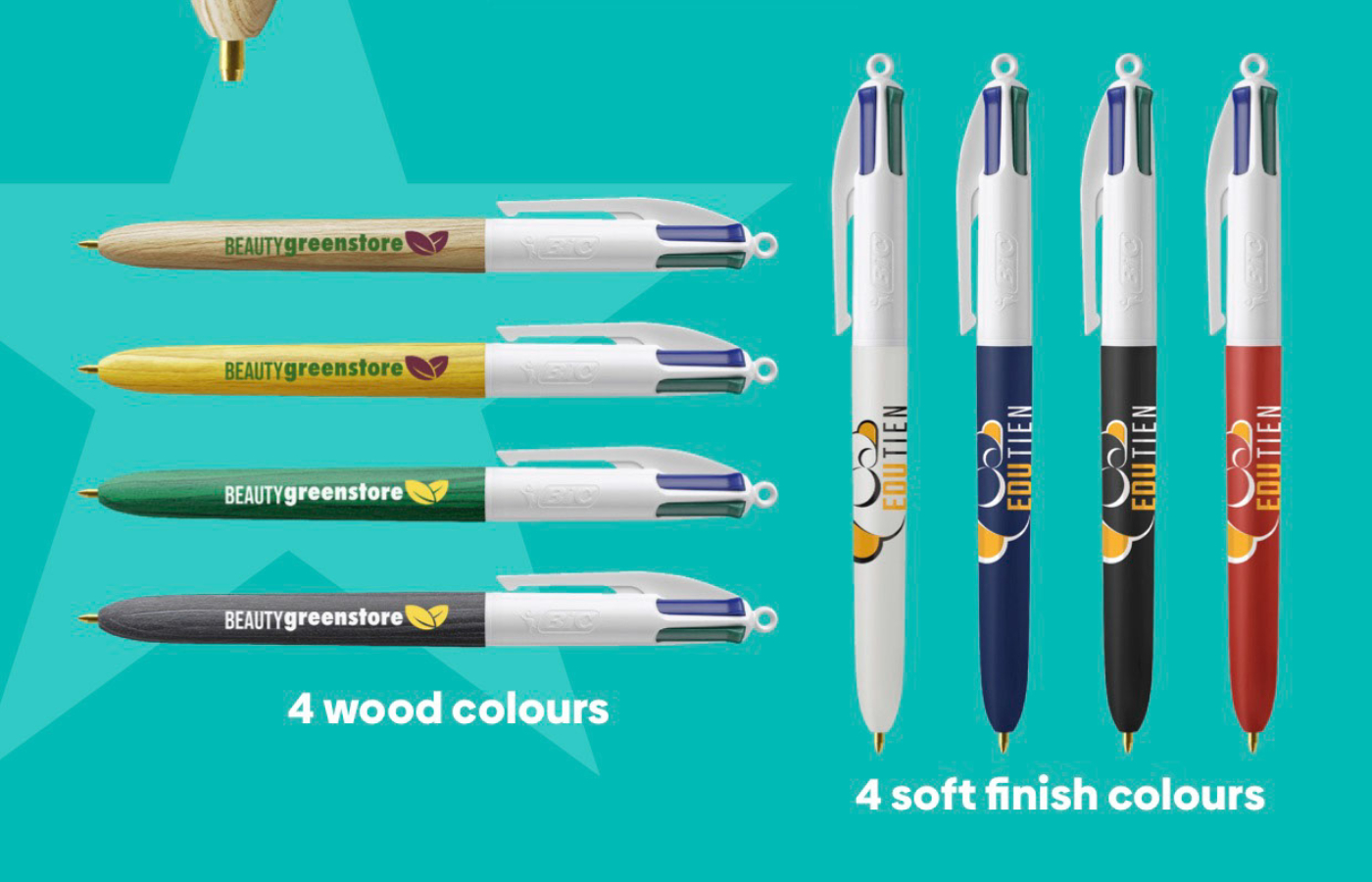 Available with a wood grain effect or soft finish. 

A timeless design with more than 45 years setting the trend in writing instruments. 

Made in Europe for a low carbon footprint. Fantastic branding areas are available with up to full-colour printing.
Grass Paper Hardcover Sticky notes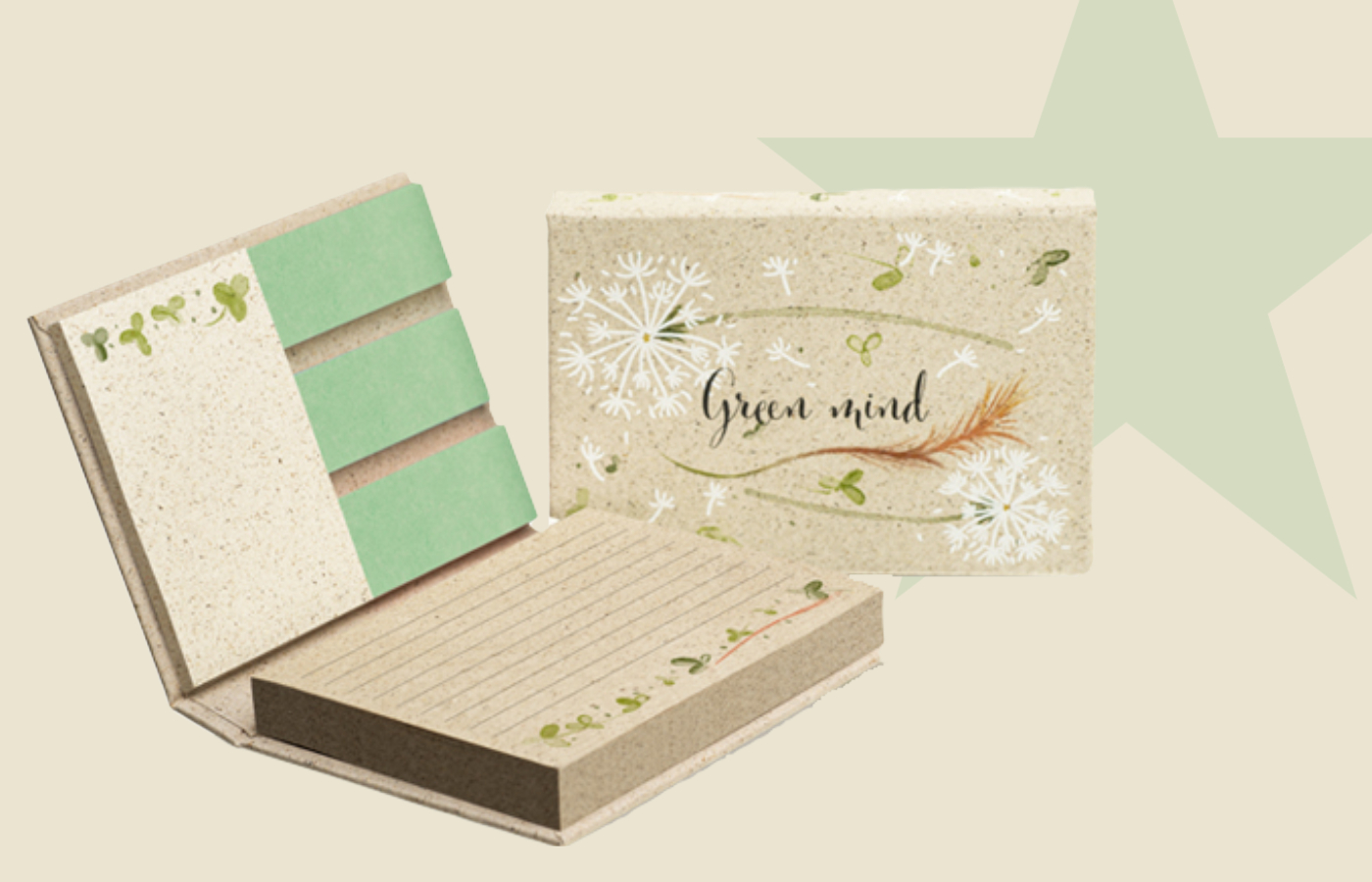 We love sticky notes for jotting down ideas and they are great for reminders too! The Grass Paper Hardcover sticky notes are much more appealing to the eye than the standard ones out there, so they would also make a perfect gift.
A new generation of sustainable products made of grass fibres (up to 40% content) and FSC® – certified forest materials. 

Grass Paper is an environmentally friendly and sustainable product due to its significantly reduced water and energy consumption compared to the use of virgin fibres only. 

M.O.Q. – 250 pcs. 

Lead time: 14 days. 
Eco Bobby Soft Anti-Theft Backpack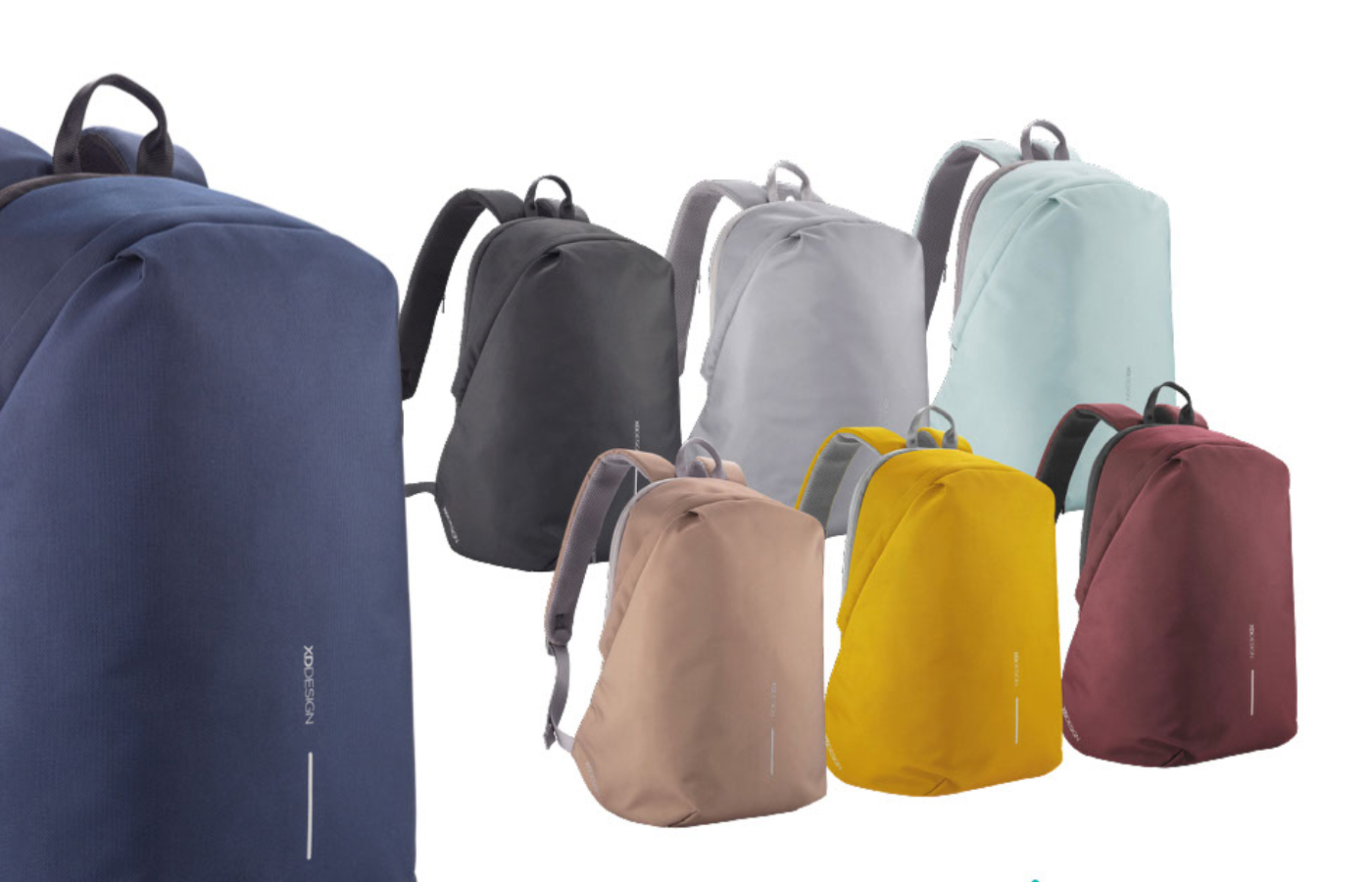 A lot of us at A.D. like to walk to work, so we had to include a backpack in our top picks. A favourite of ours (and our clients of course!), is definitely the Eco Bobby Soft Anti Theft Backpack.
Made from recycled polyester and aware technology.

An iconic anti-theft design with hidden RFID protected pockets, no front access

and hidden zippers, complemented with a safe zip pull on the main compartment.

Big enough for a 15.6″ laptop, it also includes a notebook pocket, smart pockets, integrated USB charging port and a keychain clip.

The top of the backpack is expandable giving additional space.

Made from water repellent RPET materials and AWARETM tracer. 

With AWARE, the use of genuine recycled fabric materials and water reduction is guaranteed by using the AWARE disruptive physical tracer and blockchain technology.

Each Bobby Soft backpack saves 22L of water and reuses 38 plastic bottles. 
Vogue Charging Cables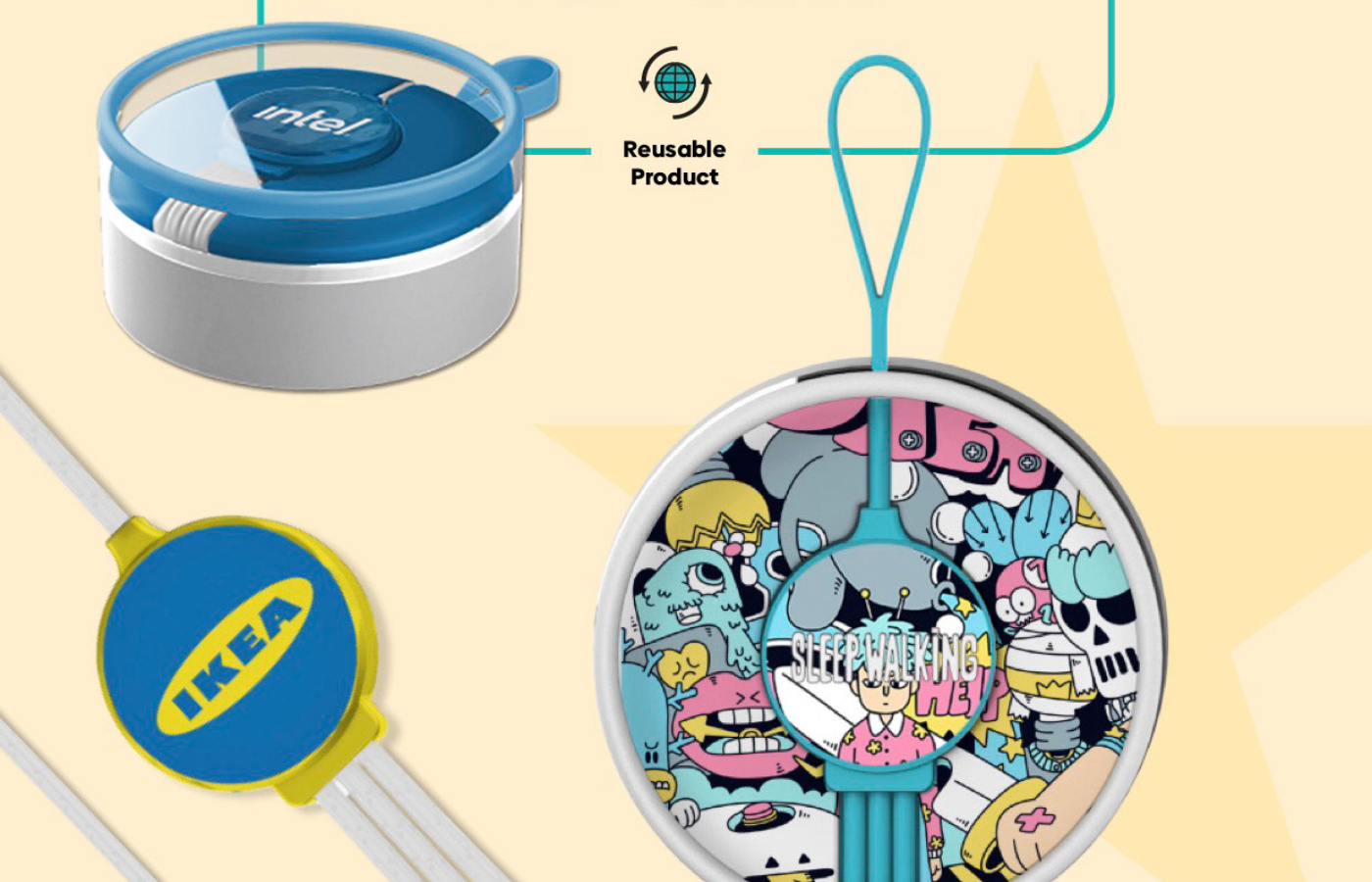 We can understand why the vogue charging cables are a top pick! The customisation feature brings in the fun! Take a look at some of the designs below, whether for the office or a treat for yourself.
1.2m long, also functions as a data cable.

Comes with a full LED optional logo. 

There are tons of other customisation options too. 

Print your logo or message onto the front of the cable with Pantone matched trim, and customise the box with coloured trims and a full-colour print insert tray. 

Plus, the MOQ is only 100! 
Rock Wireless Speaker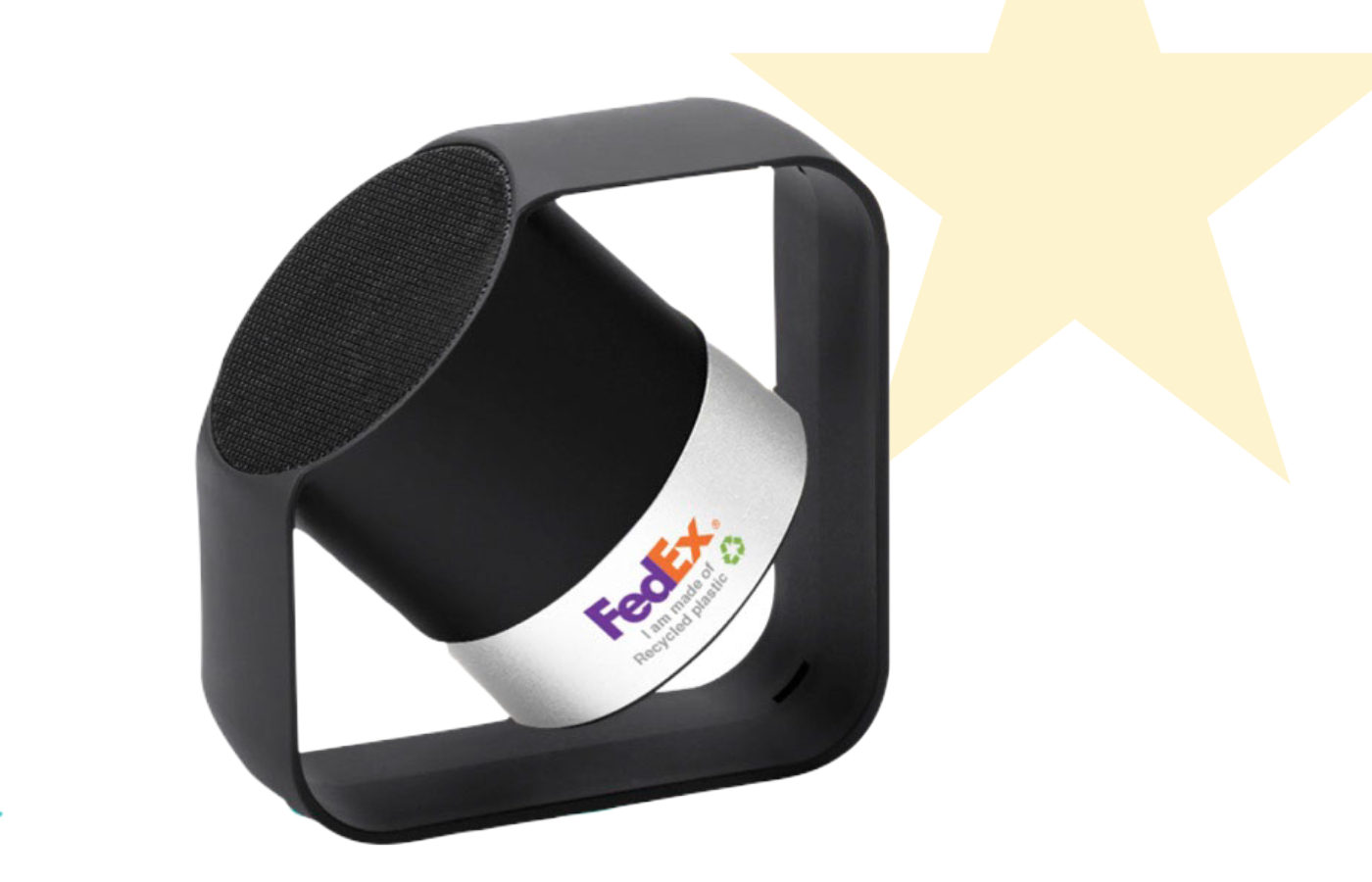 This one is for tech-savvy music lovers and is an all-around favourite. Many of us went on staycations during the lockdown. The rock wireless speaker is a must to take with you next time. 
This stylish new design 5-Watt Bluetooth speaker has a quality soft feel finish for that executive feel.

Made from a recycled ABS plastic and aluminium casing.

The case is made using recycled ABS for a more sustainable finish. 

Sourced via a carbon-neutral supply chain.
Dairy Dream A5 Spineless Notebook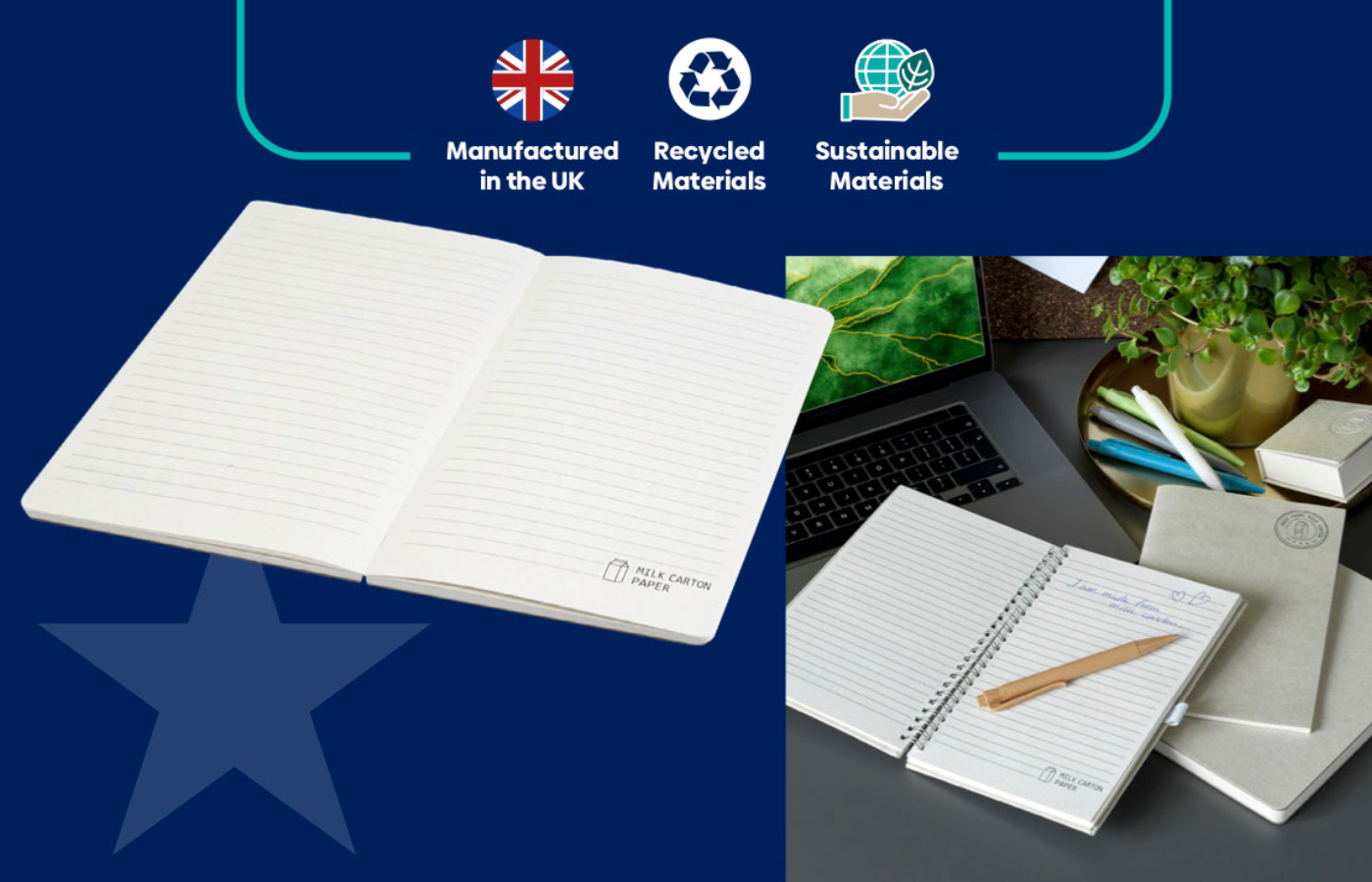 An office staple for us! But also such an innovative sustainable product which is exactly what our suppliers, clients and ourselves love! Plus, it's always handy to have with you at work and home.
Made from recycled milk cartons.

A5 size reference spineless notebook with 80 pages of 80 g/m2 lined sheets.
Used milk cartons are collected, sorted, processed and turned into paper, which is why we love this product as it's sustainable and is indeed turning waste into something useful.
Evoxx Polished Recycled Ball Pen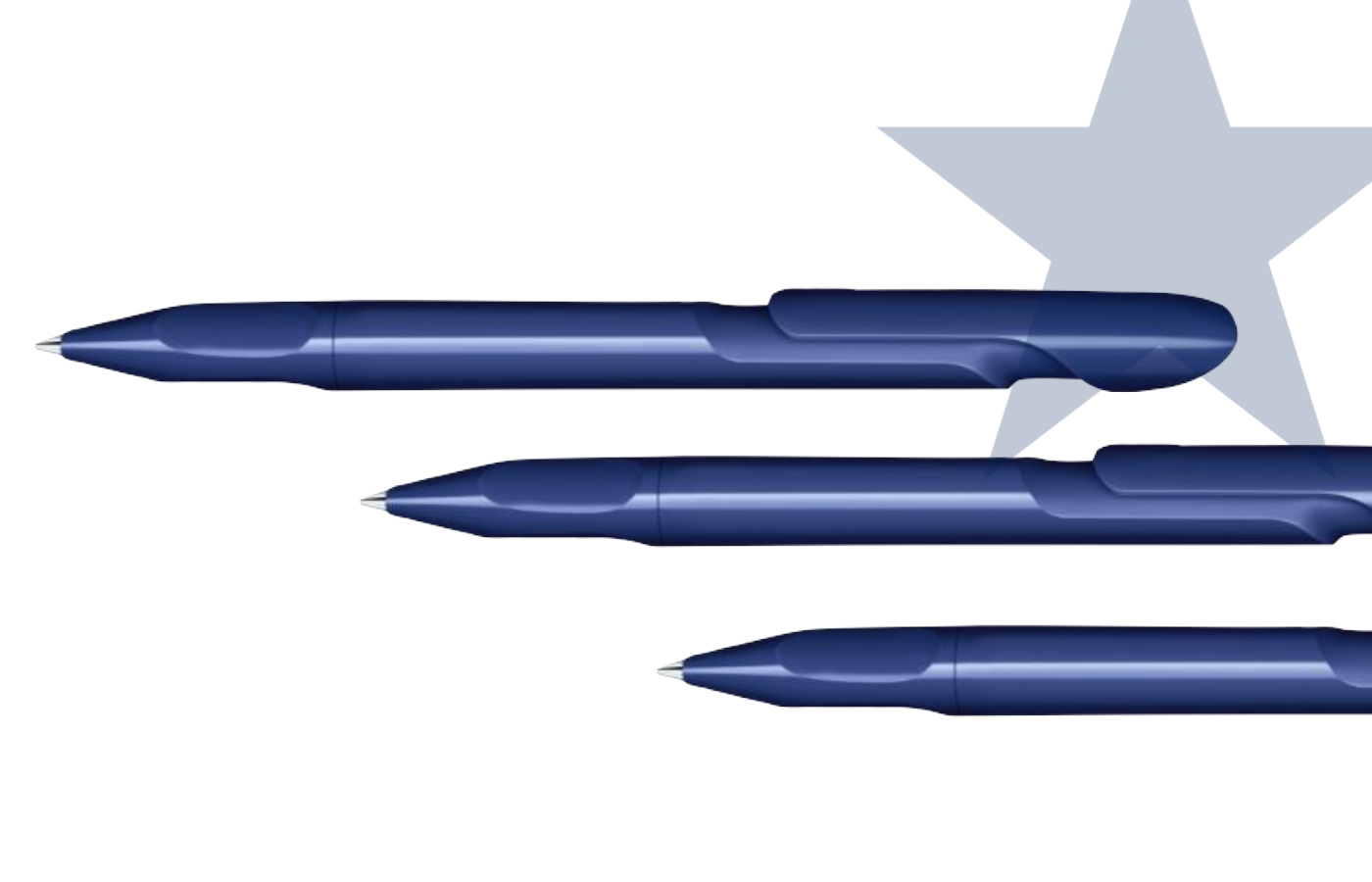 Yes! Another pen, however, the Evoxx pen, is one of our stylish and sustainable favourites!
Visible parts made from 100 % R-ABS recycled material. 

Glossy opaque barrel. Durable senator® magic flow G2 refill (1.0 mm).

Ink colour: Black.

With a choice of 4 branding areas, this pen ticks all the boxes! 
Our suppliers picked their favourites too…
Katie, June and Steph went out to all our Key Suppliers and asked them for their top 3 picks for 2022. (Most of them picked the same products as us!). These are some of the ones that they selected.
Cafeco Recycled A5 Casebound Notebook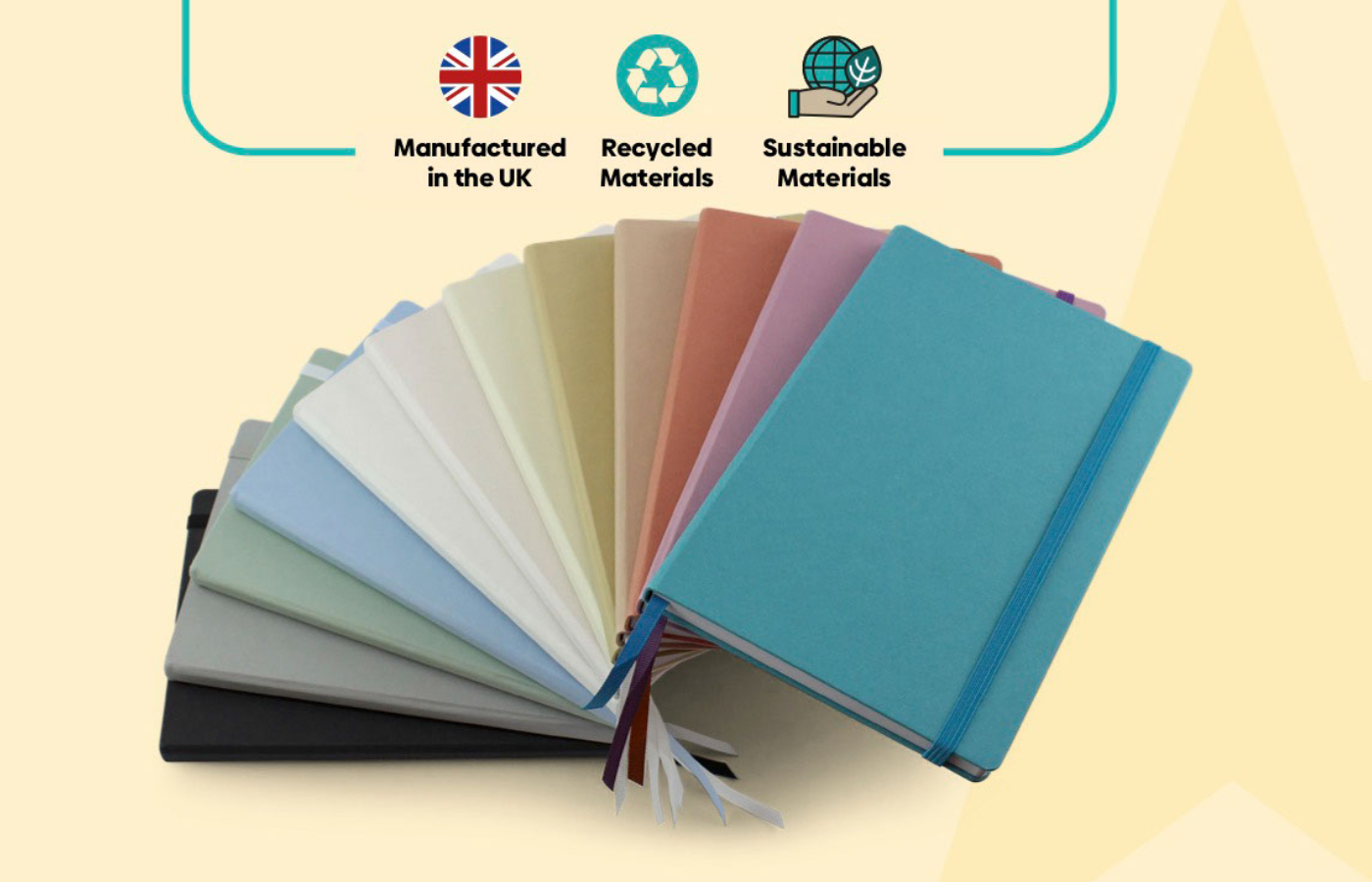 As well as the three accreditations – manufactured in the UK, recycled and sustainable materials, the Cafeco notebook, this product is also one for the people who love a bit of colour as it comes in a range of contemporary pastel shades. 
The cover material is 100% recycled office waste and post-industrial coffee cup waste. 

The white-lined paper is 100% recycled from post-consumer waste. 

The elastic strap and ribbon are available in a range of colours, the elastic is not recycled. The whole notebook can be recycled at end of use if the elastic & ribbon are removed.

The notebooks can be personalised by deboss, foil block or full-colour print. 
A truly sustainable choice!
Seabrook Eco 5oz Recycled Cotton Tote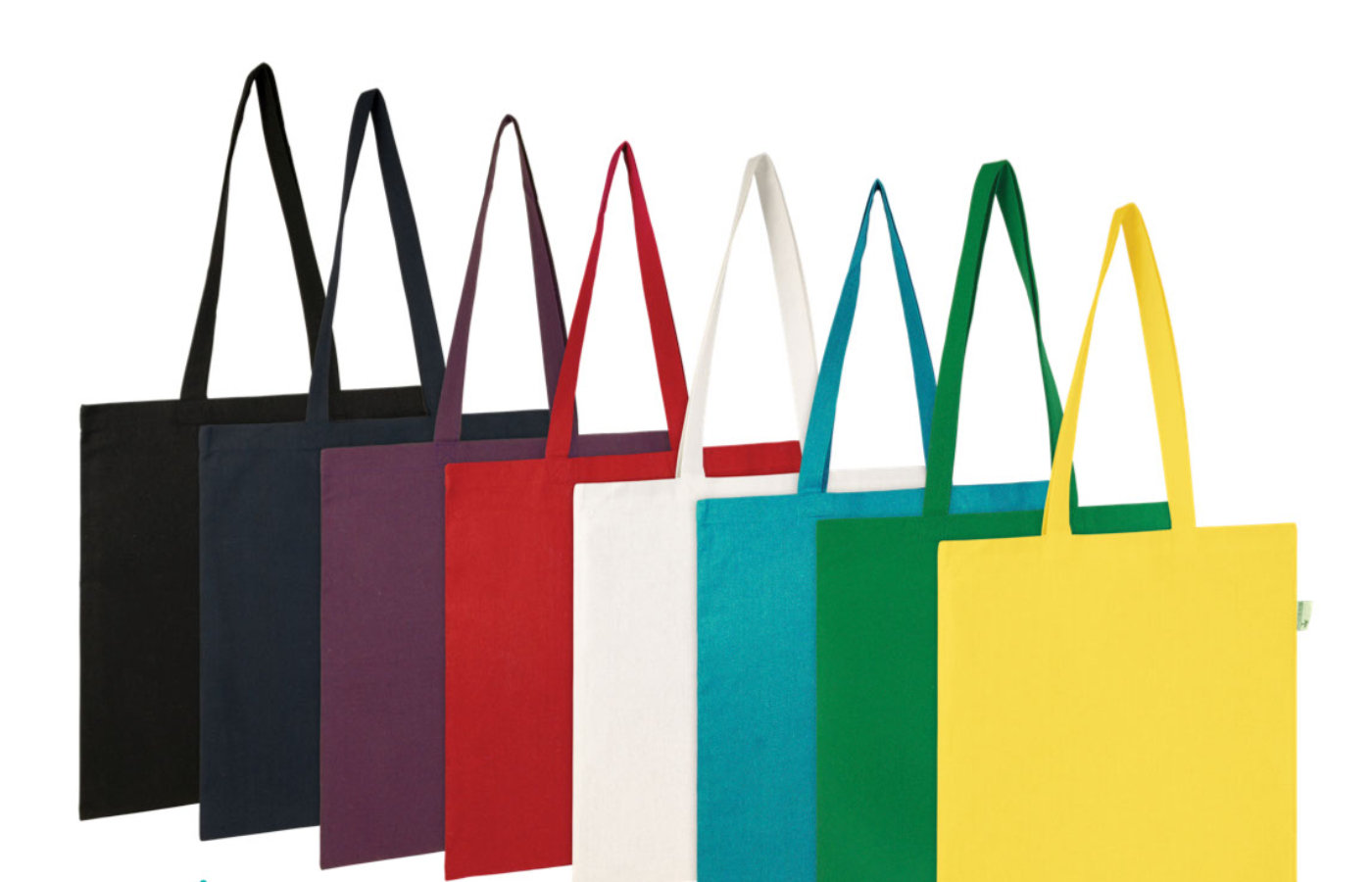 You won't be forgetting to take your bags to the supermarket if you opt for a Seabrook tote. They are also recycled and recyclable!
Recycled Eco Tote 5oz bag with long handles

Made from recycled cotton T-shirt material. 

The fabric used to manufacture this bag is 60% recycled blended with 40% polyester (rPET which is recycled fabric from plastic bottles) for extra structure.
GOTS Organic Cotton Socks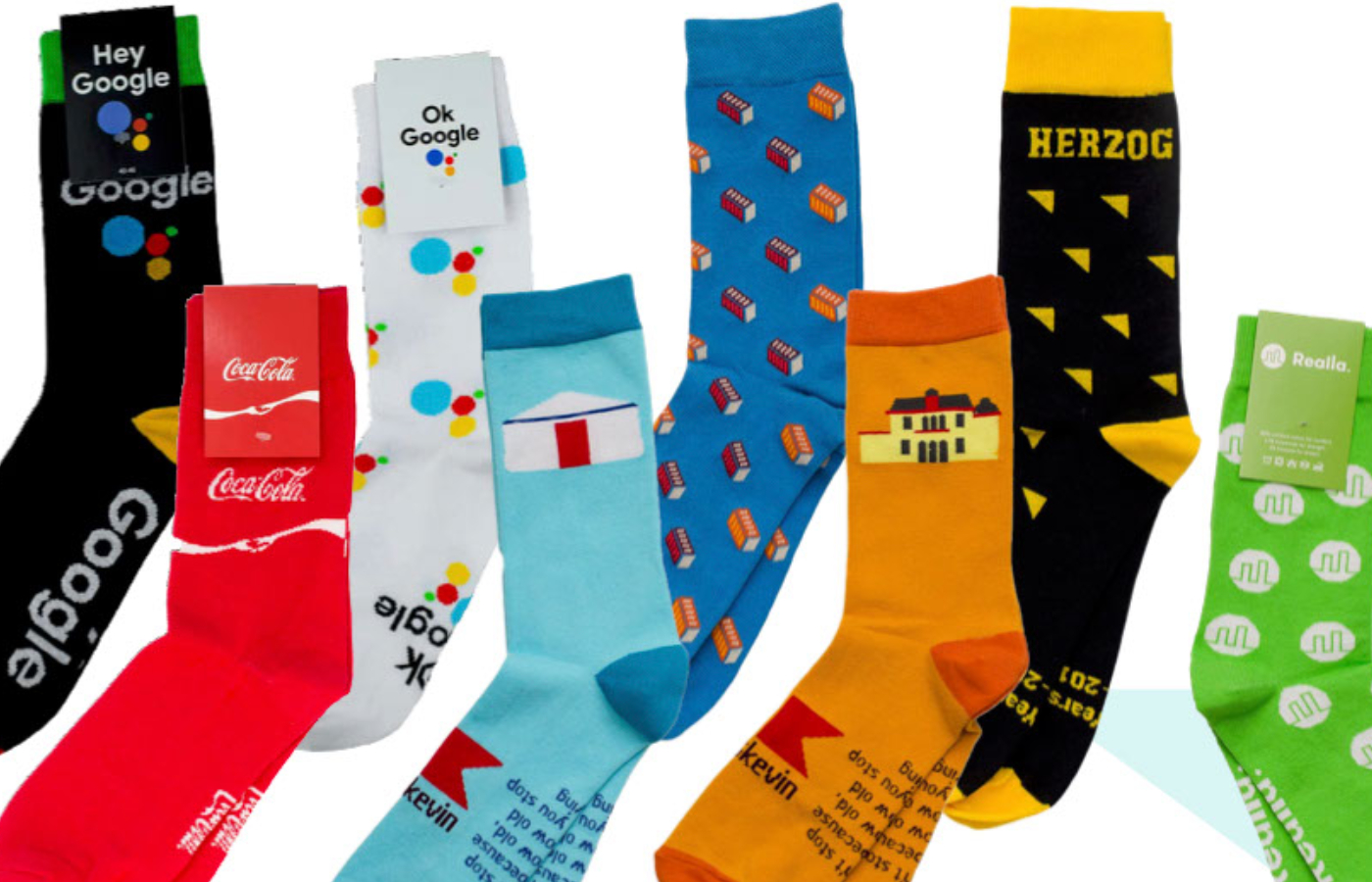 We all love a pair of happy socks!
Using GOTs (Global Organic Textile Standard) organic cotton means that it's grown without harmful insecticides and pesticides.

The perfect colourful socks in a range of designs.

Crafted in an incredibly soft and stretchy organic cotton blend. 

Sustainable.

Naturally antibacterial and anti-fungal.
…So your feet (and the planet) stay happy and healthy.
It was hard to pick our favourites! If you would like to know more about our products, start
your project and get in touch today. 
Check out our flipbook here
Blog
Read all about it! Check out what Team A.D. has to say.
Learn more
Our solutions
Discover the ways that we can make your brand stand out and connect with people.
Learn more
hide