Helping more brands find imaginative ways to build meaningful connections.
2022 has been a very exciting year, and for many of us, it's felt as though we have achieved a level of normality once more. 
We've welcomed teams and customers back to our businesses, reconnected with our communities and hit events, parties and social gathers with gusto! 
For us, it's been interesting to see how priorities have changed for our customers in recent years. Here are some insights we've discovered this year…
Quality over quantity
Whilst you still love a good-value giveaway, you're more conscious about the environment and putting your brand on easy-to-throw-away products like pens and single-use plastic products, especially if they cannot be easily recycled. 
Finding products made from sustainably sourced, eco-friendly, and biodegradable materials has been a huge focus for us this year and will continue to be our primary concern in 2023. Discover how we're prioritising the planet here, and find some imaginative ways to connect with your customers in the New Year. 
Eco and sustainable credentials are a high priority on everyone's list of requirements
.
We're all being more mindful of the products we use and how they're sourced too. 
Traceability is incredibly important, so we can help you bring your ideas to life through reputable suppliers who share your concerns to find the greenest ways to produce and deliver your products. 
Everything we provide is clearly labelled, so you can easily understand their eco credentials, and we've created a handy eco-rating glossary to help you too!  
Capturing attention with big-brand names 
We're seeing a greater desire for premium branded products from the likes of Patagonia clothing, Fjallraven bags, Camelbak drinkware and Cross pens. So if you're looking to connect with customers through well-known and much-loved brands, speak to your account manager for more details! 
You love our additional solutions! 
As well as helping you find imaginative and creative ways to connect with those who are important to your business, we also offer a host of other solutions such as fulfilment and distribution, global sourcing, bespoke packaging, branded clothing and new product development. Take a look at our solutions page to find out how we can help you market your business in 2023!  
Some of our favourite projects… 
We absolutely love helping you find wonderfully creative ways to connect with your customers and colleagues, so we have selected some of our favourite projects to showcase in the end-of-year edition of our Top Picks…
Showing the love with welcome packs 
Welcoming a new recruit to your team? Then make their start a special one with our welcome packs! This has been one of our showstopping pieces this year for iomart, with the pack including branded items such as a mug, a wireless charger, socks, a water bottle, cookies, keyrings, and a facemask with a luxury notebook too!
After such a long time in lockdown, these welcome packs are an incredibly thoughtful way to introduce people to your business and build meaningful connections instantly. 
Contents are incredibly flexible, so you can stay modest with a notebook and pen or kit your new starters out with a bag full of branded goodies. Just let us know what you're looking for, and we'll help you make the right impression!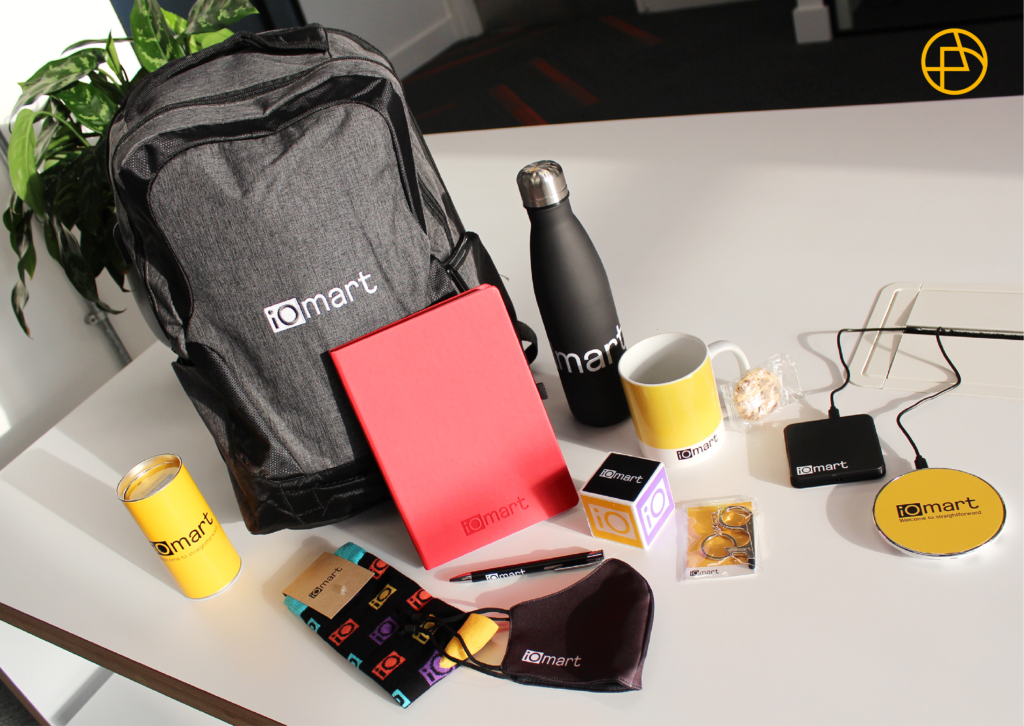 Creating a strong identity
The work we've done with Transport For Wales is another example of how we excel in team branding.
Image is everything, and branded clothing is a great way to create a smart, professional look that will get you noticed for all of the right reasons! 
Whether you want to simply add your logo to clothing or go fully branded with personalised business clothing, we can help.   
We can offer heat-sealed woven badges, logo embroidery, screen print designs, transfer prints and even special touches like branded buttons and zip pulls. 
This welcome pack created for Transport For Wales included practical items such as a beanie, a clip-on tie, a water bottle and a lanyard.
Speedy's Summer!
This year we supplied Speedy Services with a bespoke summer pack for them to gift to their amazing employees, and it was safe to say they loved it!
Speedy wanted us to create an eco-friendly well-being kit that looked great, made their team feel special and could be easily posted through their employees' letterboxes. This meant we needed to create something aesthetically pleasing whilst withstanding transit and delivery.
The pack comes in an eco-friendly, postable box which includes branded items, such as a thank you card, a bottle opener, a mini speaker, a BBQ apron and cooking utensils. The perfect summer pack for those afternoons spent in the garden flipping burgers!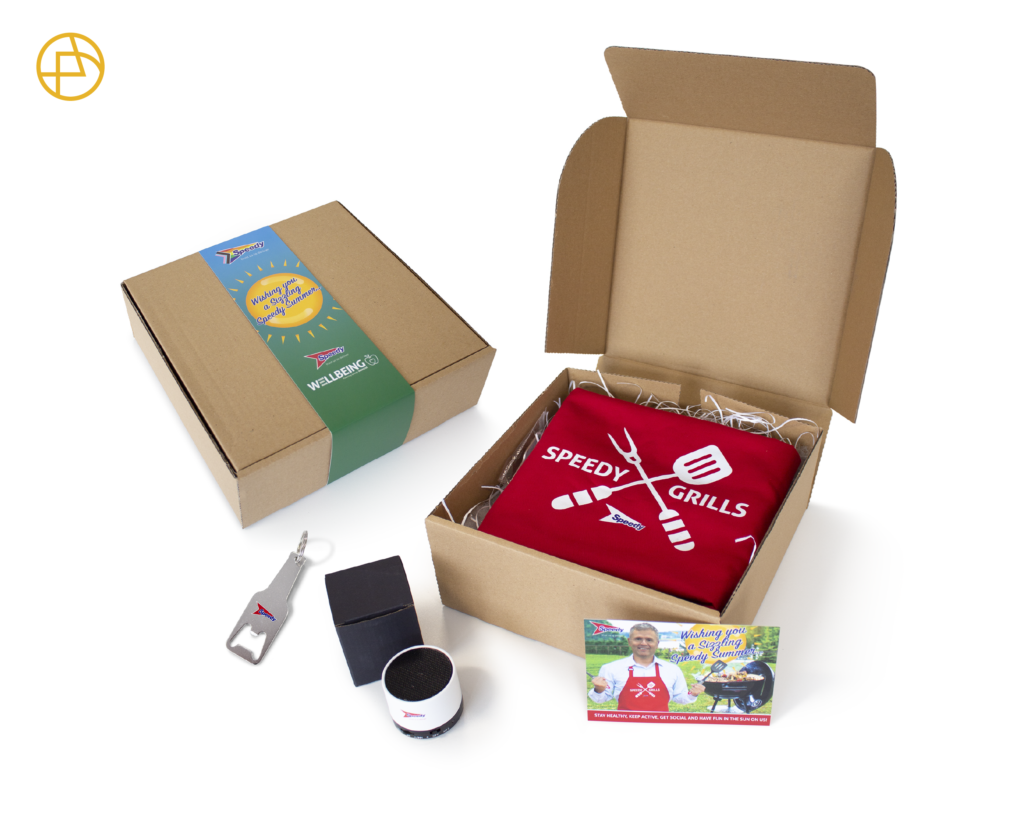 Sun, sea and travel packs…
Whilst on the summer theme, we thought we'd also showcase some of the branded solutions we have created for On the Beach this year. 
They wanted a bespoke welcome pack that could be gifted to new starters as an introduction to the company and to raise brand awareness.
This travel pack included branded items such as a neck rest, an eye mask, earbuds, a beach towel and a stylish cotton tote bag.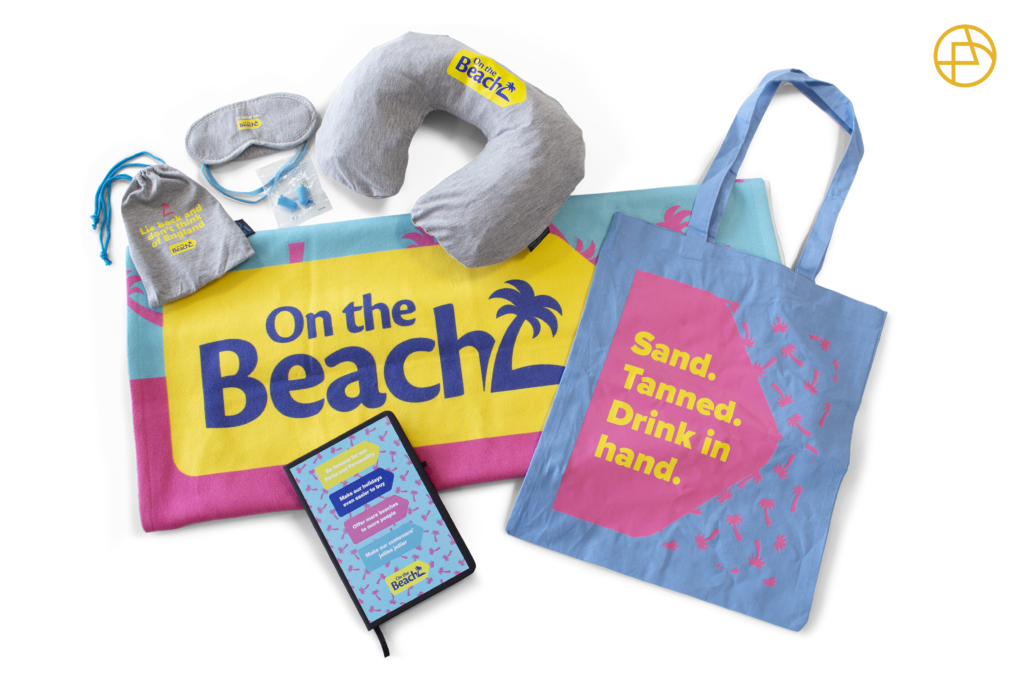 Celebration time!
Bentley asked us to help them develop a pack to celebrate their centenary. 
We wanted to help Bentley capture a small piece of its 100-year history in a sleek and stylish way without losing its significance with a throwaway product. So we worked closely with them to create a beautiful piece of bespoke packaging, including a commemorative keyring and pen set. 
The perfect keepsake for Bentley enthusiasts and treasured teammates.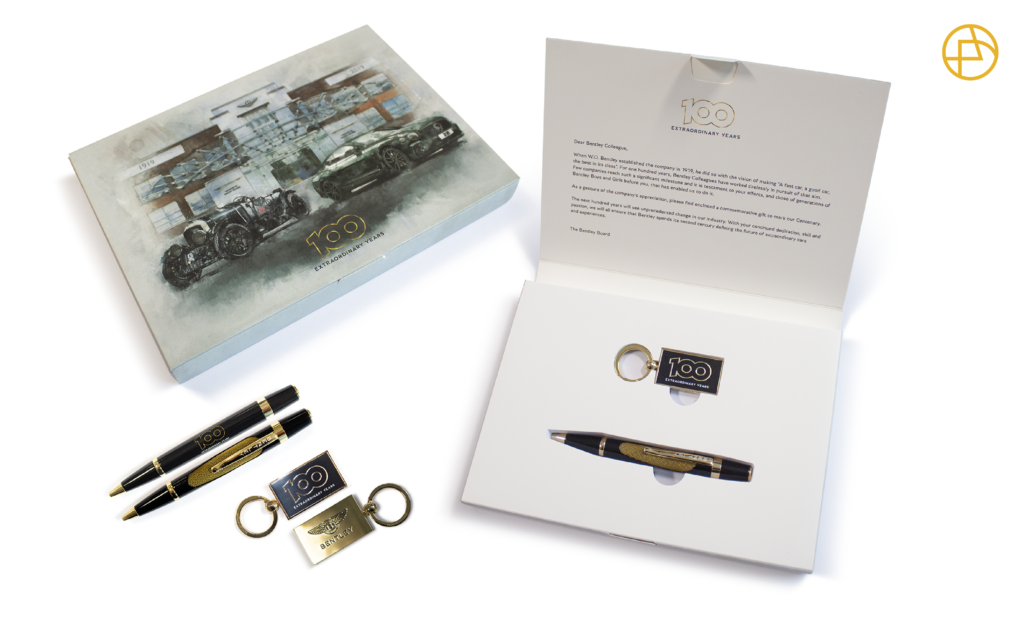 Thank you for a fantastic year!
We'd like to thank our amazing clients and partners for making 2022 a successful one.
We look forward to working on more incredible projects together in the future! 
Let's make something awesome together. Get in contact.
Blog
Read all about it! Check out what Team A.D. has to say.
Learn more
Our solutions
Discover the ways that we can make your brand stand out and connect with people.
Learn more
hide